Carol of the elves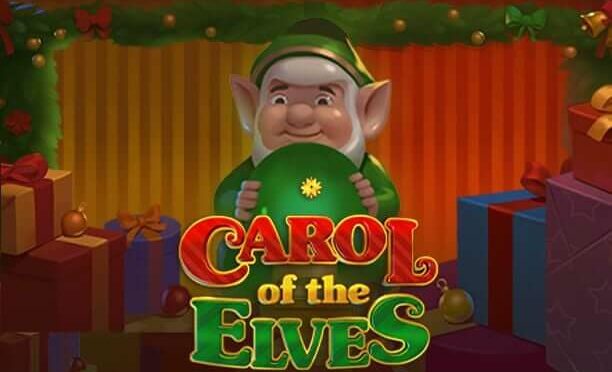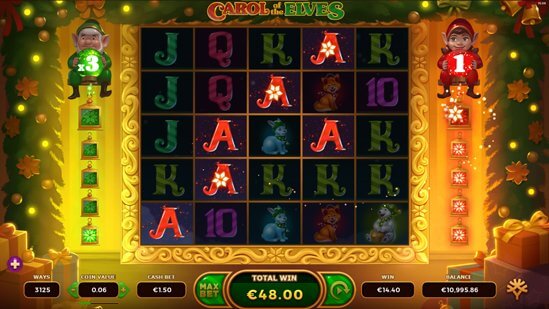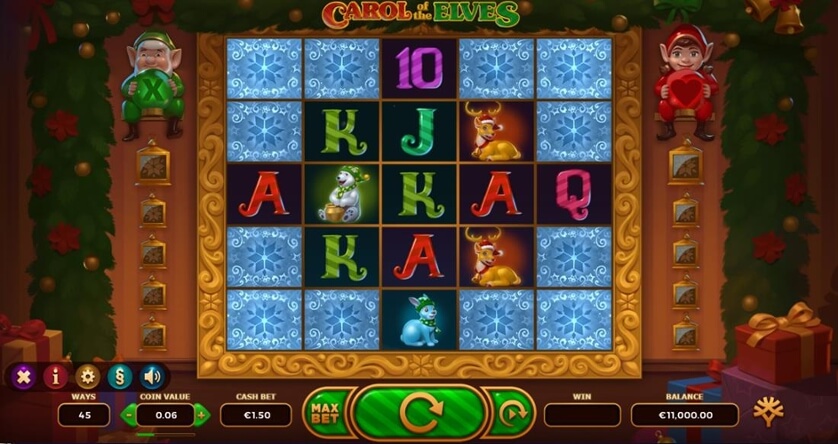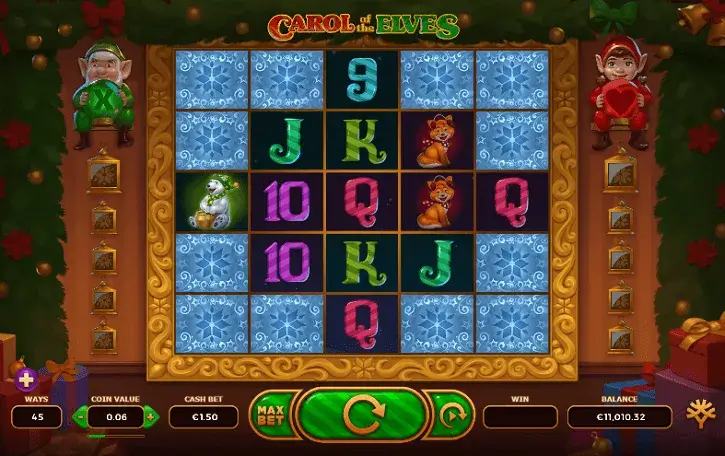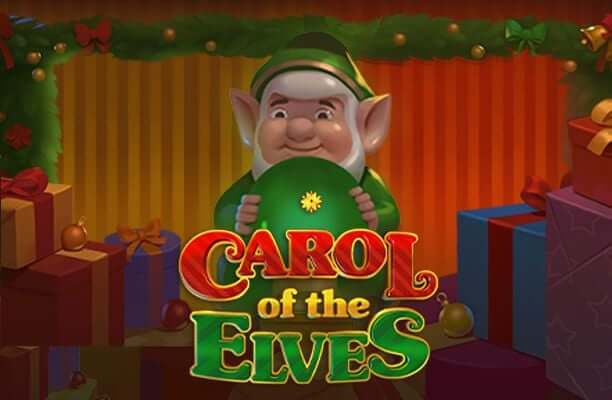 Extensive selection of games.
Has won multiple awards.
Unique loyalty program.
Multiple options for deposits and withdrawals.
Includes a sportsbook.
100+ industry-leading software providers.
Bonuses are not available for all countries.
No downloadable casino app.
Carol of the elves Info & Features
Optimization for mobile devices:
Yes
Functions:
Respins, Magic Stars, Extra Lives, Multipliers
Topic:
Christmas, Elves, Fantasy
Carol of the elves online slot
Carol of the Elves invites players into a winter wonderland where Yggdrasil Gaming has crafted a festive slot experience. With elves, reindeer, and holiday cheer, this game provides an enchanting Christmas theme for joyful spinning sessions.
When summer is over, many people immediately think about Christmas and the holidays. During these holidays you come together with family and friends to eat delicious food and exchange gifts. It is also the time when a lot of slot machines are born with a Christmas theme. Carol of the Elves is not a completely new slot machine, but more of a new Christmas version of an existing slot machine.
Carol of the Elves is a complete copy of Valley of the Gods, but with a new design. A different theme has been chosen, but otherwise the two slot machines are completely the same. After Valley of the Gods, a second part of that slot machine was released, so that the first part has almost been completely forgotten. That is why this fun slot machine has now been chosen to be used again.
Theme and storyline
Copies of existing slot machines with a winter theme are flying around our ears. After Holiday Spirits and Santa King Megaways, it's now time for Yggdrasil to do this. This time Valley Of The Gods gets an extreme makeover.
At Carol of the Elves we find ourselves in a living room completely in the Christmas spirit. There are gifts, bells and other Christmas decorations. There is an elf on both sides of the playing field, as you would expect after reading the title. The design of the slot machine is simple but effective. The music in the background is also nice and fits well with the game and the Christmas atmosphere. All in all, this slot machine has a really fun theme.
Carol Of The Elves RTP, stakes and variance
To activate the features, you need several winning spins in a row with Carol of the Elves. That's why it feels difficult that there is a high variance, because it makes reaching the features difficult. So a little patience is needed to enjoy this game.
Fortunately, the online casino payout percentage is slightly above average with a score of 96.2%.
The minimum bet of 10 cents per spin makes the slot machine accessible to people with a low budget. There is also a maximum bet of 150 euros per spin, so it is also suitable for daredevils.
Features
In Carol of the Elves you activate features by achieving multiple wins in a row. With winning spins you receive magical stars that influence your game. There is no other way to activate features, because there are no special symbols either. This provides a simple playing experience and a game that can be learned quite quickly. It may feel boring to players who appreciate a slot machine that is a bit more extensive in terms of features.
Expand your playing field
Each winning symbol creates a magical star. This star then flies to a closed box and then opens it. Your playing field has now expanded. You also get a respin. This way you can open many boxes in a row and add them to your playing field. After all twelve squares have been added to the field, you get a multiplier of two and extra lives begin.
Respins, extra lives and increasing multiplier
Once you have opened the entire field, the stars provide another nice feature. When collecting five blue stars, the multiplier goes up one. With five red stars you get an extra life. These ensure that you get an extra respin even after a losing spin. Once you run out of extra lives and you hit a losing spin, the game ends. The playing field returns to its original state and you now start again.
Demo Game
The demo version of Carol of the Elves is a holiday gift that keeps on giving. Available for all players, it allows you to immerse yourself in the Christmas spirit without spending a cent. It's an excellent way to explore the game's features and mechanics, just like unwrapping presents under the Christmas tree.
Bets and Prizes
With a range of bet sizes suitable for every kind of player, Carol of the Elves makes sure everyone has a seat at the Christmas feast. The game's prizes are as appealing as a plate of freshly-baked cookies, with the potential for big wins delivered by the game's festive features and bonuses.
Play on Mobile Devices – Android, iPad & Tablets
Carol of the Elves is perfectly optimized for mobile devices. Whether using Android, iPad, or other tablets, the game maintains its high-quality graphics and jolly sounds. This allows players to indulge in the festive fun from anywhere—be it snuggled up by the fireplace or out building a snowman.
Graphics and Sounds
Yggdrasil Gaming delivers a visually stunning game with graphics that capture the essence of Christmas. Carol of the Elves is adorned with twinkling lights, snow-covered trees, and elves that animate the screen with holiday magic.
The sounds of this slot are just what you'd expect from a game filled with Yuletide joy—a melodic carol that complements the gameplay and immerses players in a world of wintertime happiness.
Strategies and Tips
To make the most out of your time in this winter wonderland, consider the following:
Enjoy the Demo: Spend ample time with the demo to understand the special features without risking your holiday budget.
Adjust Your Bets: Start with smaller bets and adjust as you get more comfortable with the game's rhythm.
Watch for the Elves: The game's main features are centered around the elves, so pay close attention to these little helpers.
Patience is a Virtue: The slot can display high volatility, meaning payouts can be infrequent but significant, so patience can pay off.
Slot Verdict
Carol of the Elves is a delightful slot that captures the essence of the holiday season. With charming graphics, festive tunes, and the potential for rewarding payouts, it's a slot that's sure to spread cheer and excitement. Yggdrasil Gaming has wrapped up a wonderful gift for slots enthusiasts, offering a merry and bright gaming experience for the festive period and beyond.
More games from yggdrasil
Pros
The game has an expanding play area, increasing the number of ways to win with each respin.
Engaging theme with festive graphics and enchanting music appropriate for the holiday season.
Medium-High volatility caters to players looking for sizable wins.
Cons
Lack of a traditional free spins round might disappoint some players.
No jackpot, which might deter players looking for the biggest payouts.
The theme is seasonal, which might not appeal to players outside the holiday period.
Games similar to Carol of the elves
FAQ's
The RTP for Carol of the Elves is 96.20%.
Carol of the Elves is a medium-high volatility slot.
The biggest win possible in Carol of the Elves is 5,800 times the player's stake.
Carol of the Elves does not have a traditional free spins round; instead, it offers a respin feature with each win, where the play area and win ways can increase.
Ella Willson
Last Updated: Nov 07,2023