Easter island 2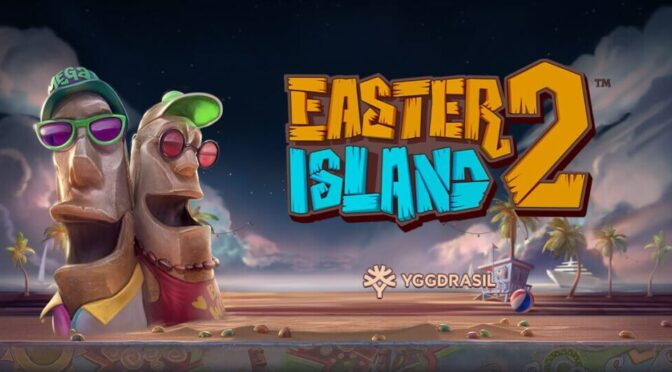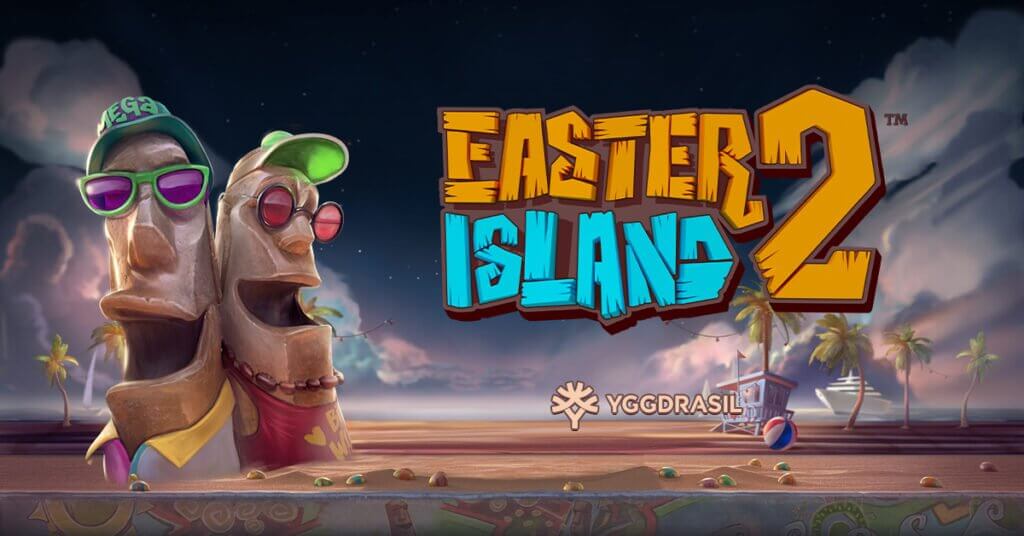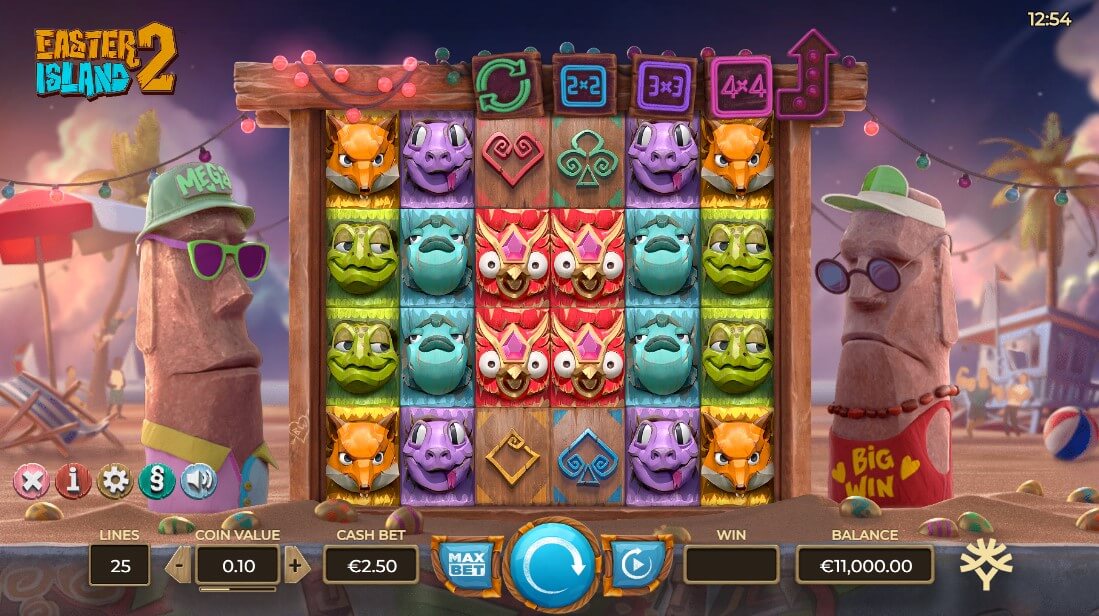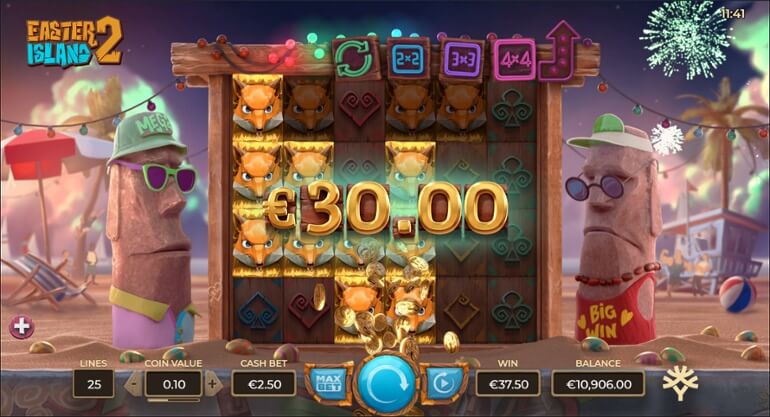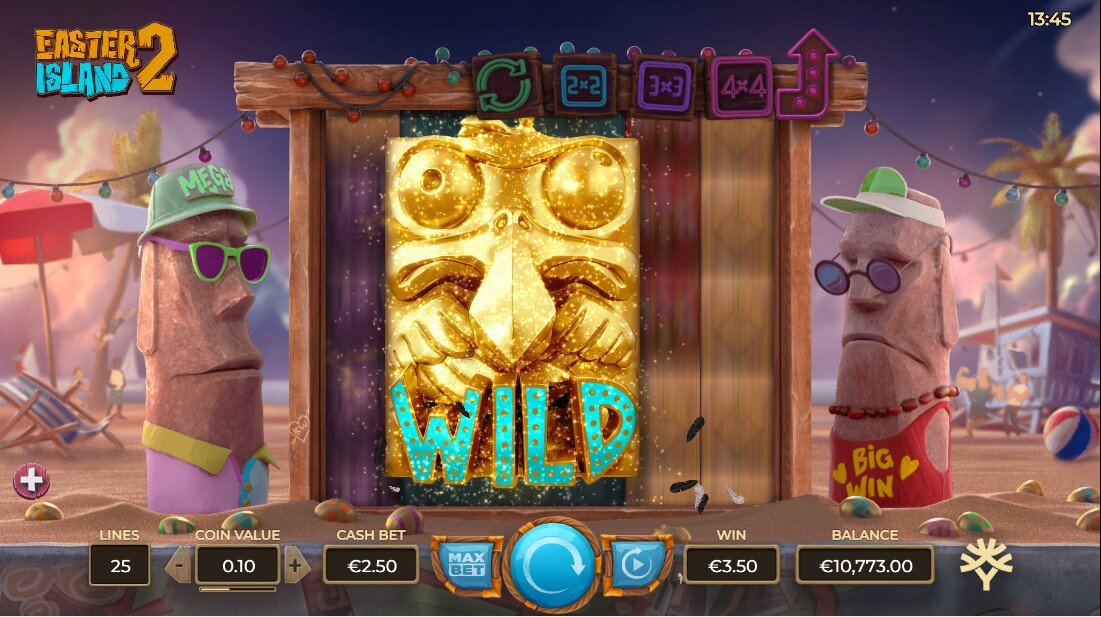 Extensive selection of games.
Has won multiple awards.
Unique loyalty program.
Multiple options for deposits and withdrawals.
Includes a sportsbook.
100+ industry-leading software providers.
Bonuses are not available for all countries.
No downloadable casino app.
Easter island 2 Info & Features
Optimization for mobile devices:
Yes
Functions:
Symbol Swap Respin, Expanding Reels, Expanding Wilds, Multiplier Wilds.
Topic:
Easter Island, Adventure, Moai statues
Easter island 2 online slot
Easter Island 2 takes players back to the enigmatic and mystical lands of the famous moai statues with more fun and more features. Yggdrasil Gaming brings life to these towering figures in an engaging sequel that promises to build on the success of the original Easter Island slot.
Theme and storyline
Who doesn't know them, the mysterious large stone statues on Easter Island, called Moai. The island, where you can discover beautiful beaches and breathtaking nature, is located in the Pacific Ocean.
However, two of the famous Moai statues want to discover something different and decide to travel to Venice Beach in California! You may think that Yggdrasil is a surprising choice, but the images of the beach and nice beach houses add a lot of atmosphere to the slot machine. It really reminds me of Venice Beach.
This time the playing field consists of 6 reels and 4 rows. This has been somewhat expanded compared to its predecessor. What has also changed is that the number of paylines has been reduced. In Easter Island 2 you can make winning combinations over 25 to 55 paylines, which is considerably less than in the first Easter Island slot machine.
The slot machine does contain the Expanding Reels feature, which ensures that the playing field becomes larger by expanding reels and more winning lines are created.
RTP, stake and variance
The payout percentage of Easter Island 2 is exactly on the average for online slots. This is a neat 96%.
The minimum bet for the slot machine is 25 cents per spin. A maximum of 300 euros can be wagered per round.
This offers opportunities for different types of players, because you can play with little money, but also with large amounts. A maximum of 2,500 times the bet can be won. Easter Island 2, like its predecessor, has an average variance of payouts.
Features
Easter Island 2 has a number of nice features, which are suspiciously similar to the features of the previous version of the slot machine.
For example, we see the Expanding Reels feature, the Colossal Symbol Blocks and wild symbols.
Wilds
The wild symbol can replace any other symbol and thus increase the chance of winning. Respins can also be won.
Expanding reels
The Expanding Reels feature ensures that the reels can expand and therefore contain more symbols.
These expanded reels also have more paylines. This feature becomes active when a winning combination of 6 symbols is made. The playing field then consists of 6 reels and 8 rows, where winning combinations can be formed over 55 paylines.
Colossal Symbol Blocks feature
You activate the Colossal Symbol Blocks feature when a winning combination with more than 4 symbols is formed.
When this happens, boxes from different reels and rows are combined to form 1 large symbol. These large symbols can also be a wild symbol. The number of symbols in the payline determines the size of the merged symbol:
Winning combination with 4 symbols is good for joining 2×2 reels and rows.
Winning combo with 5 symbols to create a winning combination, a large symbol of 3×3 is formed.
Winning combination with 6 symbols lead to a large symbol of 4×4.Symbol swap respin
Easter Island 2 lacks the option to win free spins. However, this is somewhat compensated for by the occurrence of the Symbol Swap Respins feature.
This is activated with every winning combination. If the combination consists of low paying symbols, all other low paying symbols will be replaced by the winning symbol during the respin.
If the winning combination consists of high paying symbols, all other high paying symbols will be replaced by this winning symbol. After each respin you start again. You can win a maximum of 1 respin at a time, but this can yield very nice prizes.
Demo Game
The demo version of Easter Island 2 is a great starting point for those looking to get a feel of the game without committing real money. It offers full access to all the features and functions of the game, giving players a chance to strategize before they hit the real money play.
Bets and Prizes
Easter Island 2 is designed to accommodate a wide range of players, with bet sizes suitable for low-stakes players and high-rollers alike. The game's prize structure is built to entertain and reward, with a balanced volatility that offers consistent smaller wins and the potential for larger payouts.
Play on Mobile Devices – Android, iPad & Tablets
Yggdrasil Gaming ensures that Easter Island 2 is optimized for mobile play. The game runs smoothly across all modern devices, including Android smartphones, iPads, and tablets, providing a seamless gaming experience on the go with no compromise on the graphical quality or game speed.
Graphics and Sounds
Graphics are a standout feature in Easter Island 2, with the animated moai statues bringing a sense of humor and vibrancy to the gameplay. The game's setting transitions from the grassy plains of the Pacific island to a sunny beach, enhancing the visual appeal.
The sounds of Easter Island 2 complement the visuals perfectly, with an upbeat and cheerful soundtrack that matches the animated antics of the statues on the screen. Win sequences and feature triggers are accentuated with exciting audio cues.
Strategies and Tips
To best enjoy Easter Island 2, consider the following tips:
Familiarize with Symbol Swap: Understand how the Symbol Swap mechanic works, as it can significantly boost your wins during the game.
Plan Your Budget: Given the game's medium volatility, it's wise to bet in a way that allows you to sustain your balance and enjoy a longer gameplay experience.
Take Advantage of the Demo: Experiment with different betting strategies in the demo to see how they might pan out in the real game.
Patience Pays Off: While big wins might not happen back-to-back, the game's features can yield substantial rewards over time.
Slot Verdict
Easter Island 2 builds on its predecessor's charm and simplicity, offering a fun and lighthearted slot experience. The game is a testament to Yggdrasil Gaming's innovative approach to slot design, blending high-quality graphics, engaging gameplay mechanics, and a touch of humor. Whether you're a fan of the original Easter Island slot or new to the series, Easter Island 2 is a cheerful and entertaining game that's worth a spin or two.
More games from yggdrasil
Pros
Entertaining theme with high-quality graphics and animations.
The Symbol Swap Respin feature can lead to bigger wins.
Expanding reels and wilds increase the excitement.
Cons
No free spins round, which is a popular feature in many slots.
No progressive jackpot, which might be a drawback for those looking for massive wins.
The maximum win potential might be lower compared to high volatility slots.
Games similar to Easter island 2
FAQ's
The RTP (Return to Player) for Easter Island 2 is typically around 96%, but this number should be confirmed with the game provider as it can sometimes vary.
Easter Island 2 is known to have medium volatility. This means it offers a balanced risk level, with a mix of smaller and larger wins.
The biggest win possible will depend on the game's max multiplier and the highest paying symbol combinations. Since there is no progressive jackpot, the maximum win is capped at a certain level. This information is usually found within the game's paytable or provided by Yggdrasil Gaming.
No, Easter Island 2 does not feature a traditional free spins bonus round. Instead, it has a Symbol Swap Respin feature that acts similarly to a re-spin bonus.
Ella Willson
Last Updated: Nov 07,2023