Football glory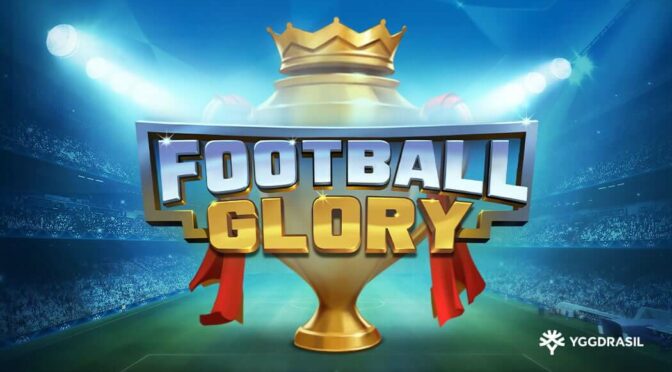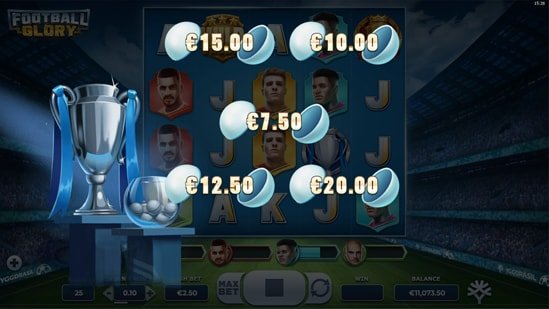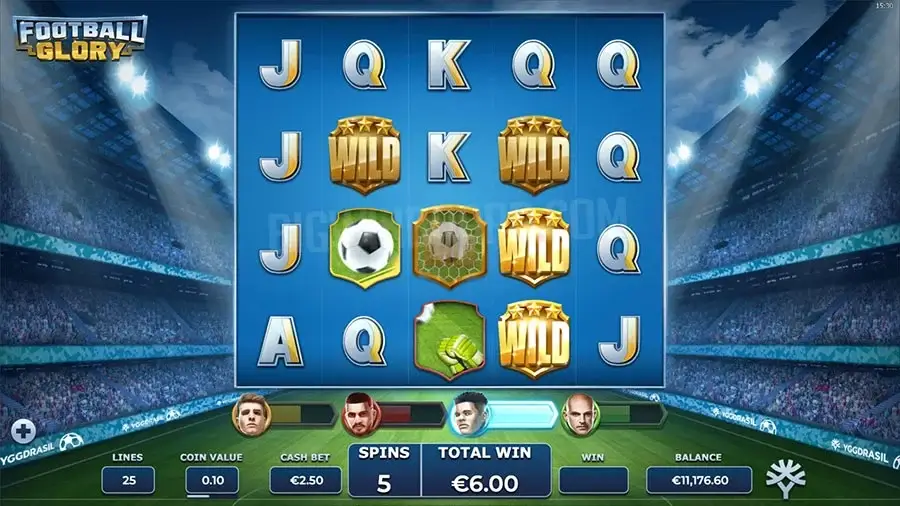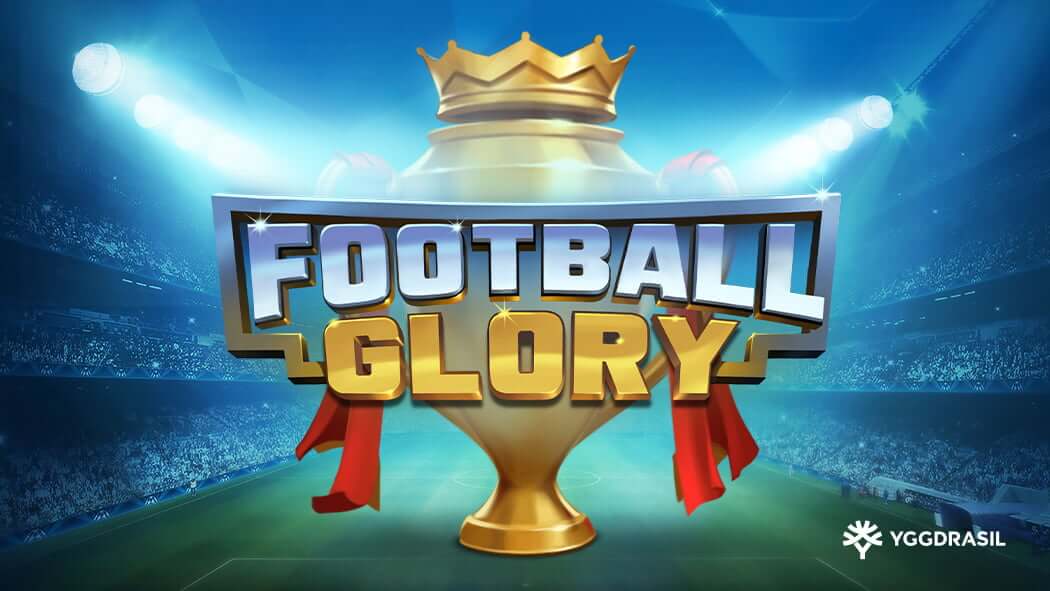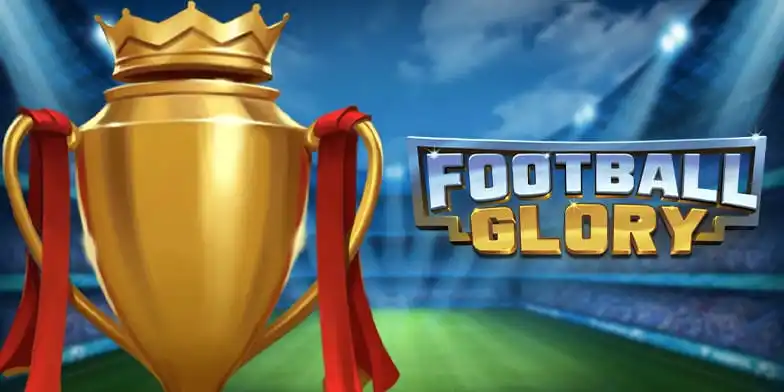 Extensive selection of games.
Has won multiple awards.
Unique loyalty program.
Multiple options for deposits and withdrawals.
Includes a sportsbook.
100+ industry-leading software providers.
Bonuses are not available for all countries.
No downloadable casino app.
Football glory Info & Features
Optimization for mobile devices:
Yes
Number Of Free Spins:
Yes
Functions:
Superstar Mode, Free Spins, Silver Cup, Gold Cup
Football glory online slot
Football Glory captures the passion and excitement of the world's most popular sport, bringing it to the reels in a slot game filled with action. Developed by Yggdrasil Gaming, this game is a celebration of football, offering players a chance to bask in glory with every spin.
Theme and storyline
Producer Yggdrasil Gaming has a good reputation when it comes to design, but this did not quite work out with Football Glory.
The game is from 2020 but looks more like it was designed for the 2004 European Championship. The design is dated and in our opinion not at the level you would expect from a modern slot machine.
Yet the storyline and central football theme is something that will appeal to us and many other gamblers. The original theme makes up for some of the mediocre design.
The playing field contains 20 symbols between which you can form winning combinations via 25 paylines.
Football Glory RTP, stakes and variance
Football Glory's payout percentage is 96.1%, which is slightly above the average for new slots.
Just like the payout percentage, the betting options of the slot machine are also fine. you can even bet a maximum of 125 euros on this game. Players who prefer to gamble with small amounts can bet from 25 cents per spin.
The variance of the payouts is average, so winning combinations will regularly appear on the playing field. However, this does not come at the expense of the maximum payout, which is still fine with 4,000 times your stake.
Features
There are a lot of features in this slot machine that ensure that we were still able to give a satisfactory rating. The features are fun and original and will be briefly discussed below.
Gold and Silver Cup feature
The Silver Cup can become active at random times in the game.
During the basic game this will award you a cash prize and you will be awarded between 7 and 21 free spins.
If it happens during the free spins, it will award between 2 and 4 extra free spins, 1 or 2 wilds on the playing field and another cash prize.
The Gold Cup provides between 7 and 21 free spins in the basic game and an even higher cash prize.
In addition, the All Stary Glory Spins and Glory Boost become active.
Glory Meter
Then there is the Glory Neter that is filled after every valuable combination. When this meter is full, 7 free spins will follow with a specific player in Superstar Mode.
When this player's symbol lands on the playing field, it will score and turn into a Sticky Wild.
Football Glory free spins
In addition to the Gold and Silver Cup, you can also earn free spins with the scatter symbol.
Three scatter symbols give 7 free spins.
Four scatter symbols give 14 free spins.
Five scatter symbols give 21 free spins.
The valuable symbols can score during these free spins and thus turn into wild symbols that stick. For the free spins, an extra bonus will be chosen, for example an extra wild symbol or 5 extra Gold Cups.
Demo Game
For those looking to get a taste of the football action without committing funds, the demo version of Football Glory is perfect. This version gives you the full experience of the game's features without any risk, providing an excellent practice field before heading to the match.
Bets and Prizes
Football Glory caters to fans with a variety of bet sizes, ensuring everyone from casual fans to high-rollers can enjoy the game. The slot features an array of prizes, with special attention to the Free Spins mode where players can score bigger wins, enhanced by sticky wilds and other exciting features.
Play on Mobile Devices – Android, iPad & Tablets
Yggdrasil Gaming has made sure that Football Glory is fully optimized for mobile play. Whether you are using an Android device, iPad, or any tablet, the game maintains its high-quality graphics and immersive sound, ensuring that you can carry the thrill of the game wherever you go.
Graphics and Sounds
The graphics are a vibrant tribute to the beautiful game, with a stadium backdrop that places players right in the heart of the action. Each symbol celebrates football culture, from the glory of the players to the roar of the crowd.
Sounds in Football Glory add to the atmosphere with stadium chants, the referee's whistle, and the unmistakable sound of the ball hitting the back of the net. These auditory details work together to create an immersive football experience.
Strategies and Tips
When playing Football Glory, consider the following strategies and tips:
Engage in Demo Play: Familiarize yourself with the gameplay and features in the demo mode.
Set a Game Plan: Manage your bankroll and set a betting strategy that allows for extended playtime and a shot at triggering the game's features.
Look Out for Bonuses: Stay on the lookout for bonus features like Free Spins and the Superstar Mode that can significantly boost your wins.
Patience Pays: With a higher volatility, wins may not be frequent, but patience can lead to significant payouts.
Slot Verdict
Football Glory is an engaging slot that perfectly encapsulates the spirit and enthusiasm of football. The game's focus on Free Spins and its engaging bonus features offer a dynamic experience that aligns with the unpredictability and excitement of a real-life football match. For fans of the sport and slot enthusiasts alike, Football Glory is a game that combines the best of both worlds, offering a chance to achieve your own moment of football glory on the reels. Yggdrasil Gaming scores with this title, adding yet another compelling game to its diverse portfolio.
More games from yggdrasil
Pros
Engaging football theme that resonates with sports enthusiasts.
Feature-rich gameplay with multiple bonus opportunities like Superstar Mode and Cup features.
All-Star free spins mode has potential for substantial payouts.
Cons
No direct multiplier feature during the base game.
Medium volatility might not appeal to those seeking high-risk, high-reward gameplay.
Some players may find the theme niche if they are not interested in football.
Games similar to Football glory
FAQ's
The RTP for Football Glory is 96.10%.
Football Glory is a medium volatility slot.
The biggest win in Football Glory can exceed 4000 times the player's stake, especially during the All-Star free spins.
Yes, Football Glory includes a free spins bonus round, which is triggered by scatter symbols. The free spins come with additional features like Superstar Mode, increasing the potential for wins.
Ella Willson
Last Updated: Nov 07,2023