Gem rocks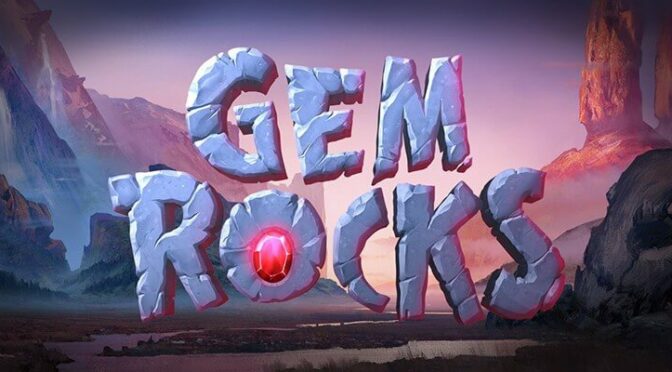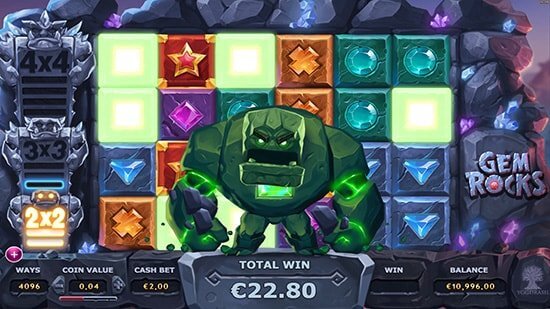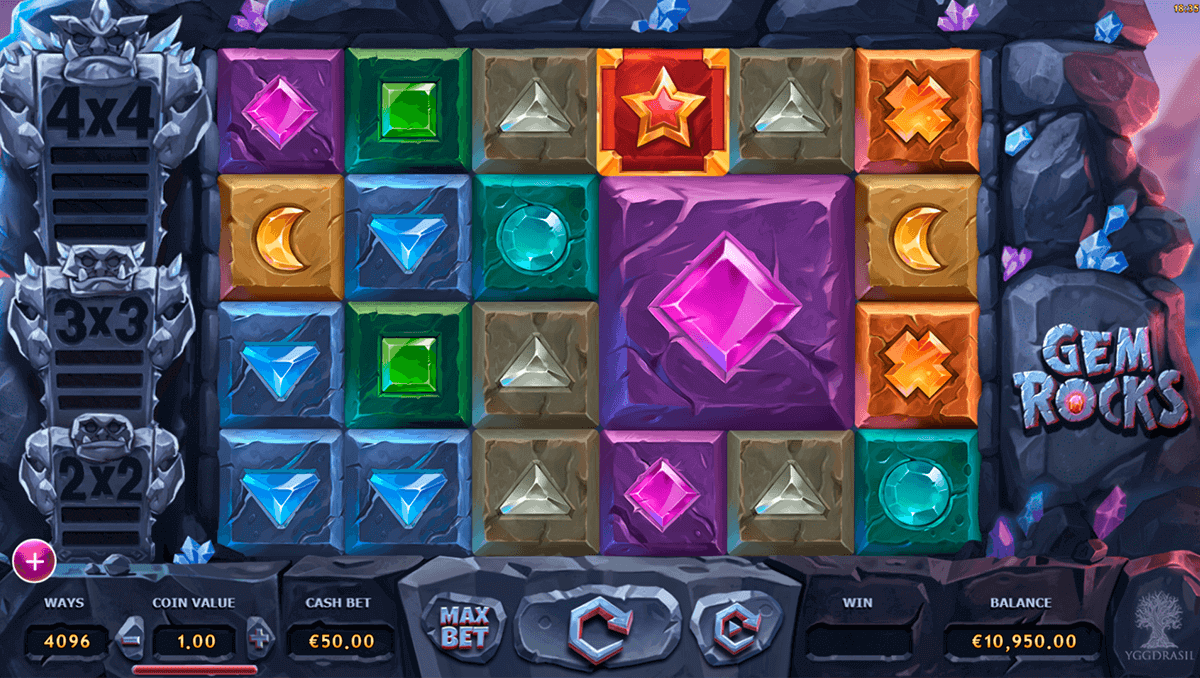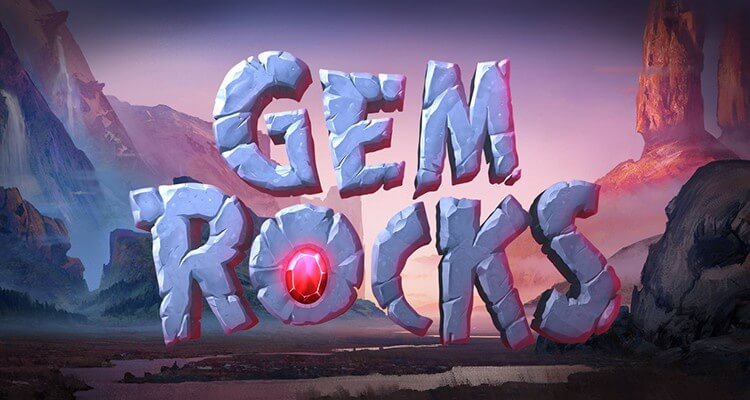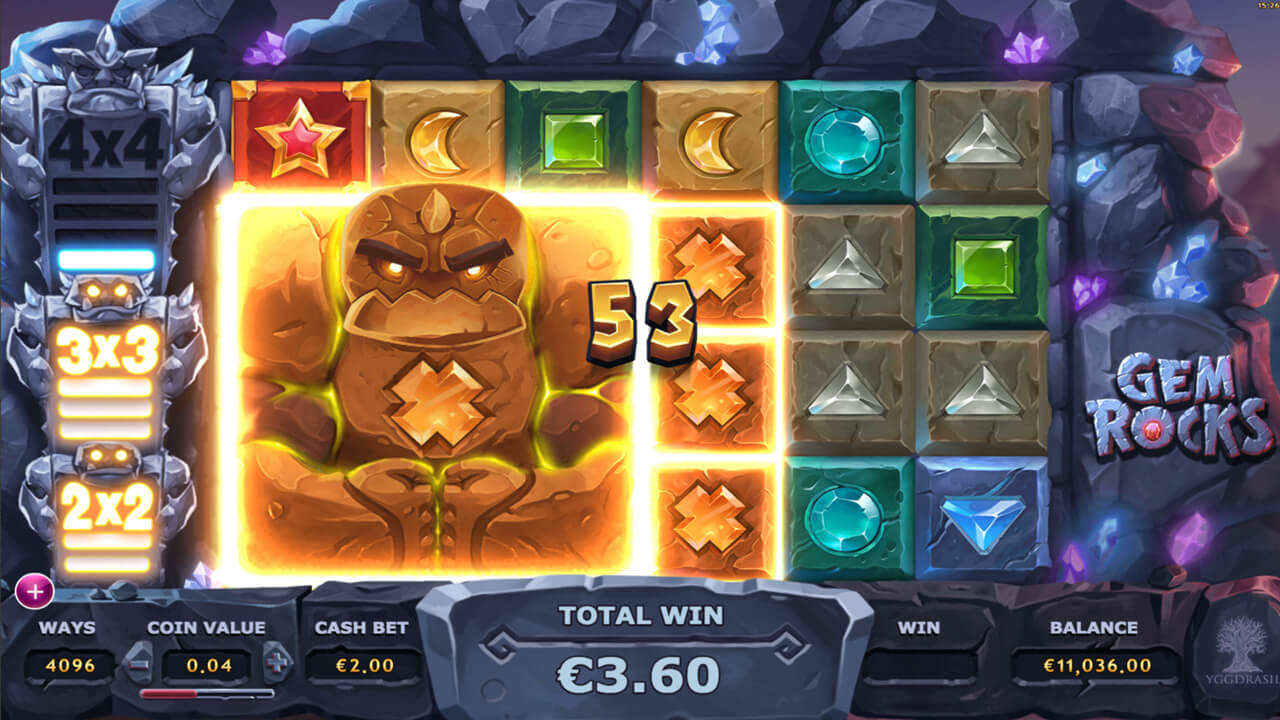 Extensive selection of games.
Has won multiple awards.
Unique loyalty program.
Multiple options for deposits and withdrawals.
Includes a sportsbook.
100+ industry-leading software providers.
Bonuses are not available for all countries.
No downloadable casino app.
Gem rocks Info & Features
Optimization for mobile devices:
Yes
Functions:
Dropdown Wins, Monster Rock Feature, Multipliers
Topic:
Gems, Fantasy, Monsters
Volatility:
Medium to High
Gem rocks online slot
Yggdrasil Gaming's Gem Rocks slot offers an innovative and visually striking experience. Set in a mystical world, this game invites players to dig deep and discover treasures hidden beneath cascading gems and giant rock formations.
Introduction to Gem Rocks
New and award-winning designer Yggdrasil brings his distinctive touch to a game that is second to none. With more reels than most slot games and more winning combinations than you can imagine, Gem Rocks truly deserves a special place in the slots world.
Gem Rocks theme
The rock theme may not seem particularly exciting, but Gem Rocks' graphics and design make the game stand out from the crowd. From the rugged background to the gemstone symbols that appear almost sculpted, the theme is embraced wholeheartedly. Nowhere is this more evident than when multiple winning combinations unleash the impressive rock monster to further increase your winnings.
Graphics By Gem Rocks
Great attention to detail has been put into Gem Rocks' graphics to ensure they support the theme and catch the eye. A mountainous, blue-gray background allows the colors of the gemstones on the reels to stand out particularly well. These gems crash into place rather than roll, as if falling from above. When they fall, you can even see the cracks in the rock behind them. When they land, clouds of dust add an extra touch of realism. When you create a matching line, the colorful explosion of gems is a real thrill. Another useful feature is the glittering of gems on cascading rows, when a potential row is just waiting for a gap to be filled. That makes things a little clearer.
To the right of the reel, the cascading rock monster counter shows three troll-like creatures, also carved from stone and ready to come to life. Even the home and settings buttons at the bottom appear carved in gray stone. The font is also rough and rocky, with a gemstone in the "o" of "Rocks." The music is less obviously related to the theme, but is very pleasant to listen to.
How to Play Gem Rocks
This game is quite easy to play. If you need help, you can easily access the paytable, settings options and game rules via the menu in the bottom left corner. This will expand when you click on it and shrink again when you click on it again.
Essentially, Gem Rocks is similar to any other slot game. If three or more symbols match on consecutive reels starting from the left, you win. If there are several identical symbols on a reel, they can all be added to the total combination. Where the reel lands is completely random and is not controlled by the player, manufacturer or organizer. The biggest difference to other games is that instead of the usual 5 reels there are six and instead of the familiar 25 winning lines or 243 winning ways there are a crazy 4,096 possible winning combinations. This way you are guaranteed to never get bored.
How To Win At Gem Rocks
Each gemstone has a different value. Orange, purple, green and gray all offer a five coin win if you match three gems. This value increases to 10 for four matches, 15 for five, and a total of 20 if you get a full six.
The next level of gemstones are Blue and Aquamarine, both of which also start with a five-coin win for three matching symbols and a ten-coin win for four matching symbols. Instead of 15, the total coin win increases to 20 with five matching symbols and to a maximum of 25 coins with a total of six matching symbols.
Play Gem Rocks for free
Gem Rocks is available for free. This means you can shoot without any real pressure and have fun risk-free. Even if you want to use real money in the future, it is always a good idea to test a slot machine a few hundred times first. You want to make sure that you really understand the game and that you enjoy playing it. To have the most realistic experience possible, you can keep your virtual bet size at the same level as you would when playing with real money.
Demo Game
Before committing any real money, players can delve into the Gem Rocks universe through the demo game. It's an excellent way to familiarize oneself with the cascading reels and the unique Gem Rock feature, experiencing the full excitement of the slot with absolutely no risk.
Bets and Prizes
Bets in Gem Rocks cater to a wide range of players, offering various options that can suit different playing styles and bankrolls. The game's prizes are impressive, especially when the cascading wins lead to the creation of Gem Rock features, which can cover a significant portion of the reels, potentially leading to sizable payouts.
Play on Mobile Devices – Android, iPad & Tablets
Gem Rocks' mobile version is as stunning and functional as its desktop counterpart. The game's interface and graphics scale perfectly to fit Android, iPad, and tablets, ensuring a seamless and engaging experience on any device.
Graphics and Sounds
The graphics in Gem Rocks are a true testament to Yggdrasil's reputation for visually stunning slots. Each gem symbol is intricately designed, and the animations for the cascading reels and Gem Rock feature are a delight to watch.
The sounds of Gem Rocks complement the visual experience with a soothing yet mystical audio backdrop that enhances the overall immersive feeling of the game.
Strategies and Tips
Aim to get consecutive wins to trigger the Gem Rock feature, as this can lead to large symbols that significantly increase your chances of winning.
As wins can be less frequent due to the game's high volatility, managing your bankroll is crucial to ensure prolonged gameplay.
Slot Verdict
Gem Rocks is an innovative and captivating slot that stands out in Yggdrasil's portfolio. It combines engaging gameplay with breathtaking graphics and the chance for substantial wins. This game will likely appeal to those who enjoy high-volatility slots and are looking for a gaming experience that is both visually and technically impressive. The cascading reels and giant Gem Rock features promise a rock-solid slot adventure with the potential for big rewards.
More games from yggdrasil
Pros
Massive symbols up to 4x4 in size can land on the reels, increasing the chances of big wins.
Cascading reels with multipliers can lead to several consecutive wins on a single spin.
4,096 ways to win, offering numerous possibilities for matching symbols.
Cons
No traditional free spins or bonus game which may disappoint some players.
Medium to high volatility might not be suitable for players with a low risk tolerance.
The maximum bet is capped at 50.00, which may not appeal to high rollers.
Games similar to Gem rocks
FAQ's
The RTP (Return to Player) for Gem Rocks is 96.2%.
Gem Rocks has a medium to high volatility.
The biggest win possible in Gem Rocks is up to 9,000 times the player's stake.
No, Gem Rocks does not feature a free spins bonus round. Instead, it has a Dropdown Wins system where winning symbols disappear, and new symbols fall into place, potentially creating additional wins on the same spin.
Ella Willson
Last Updated: Nov 08,2023