Neon rush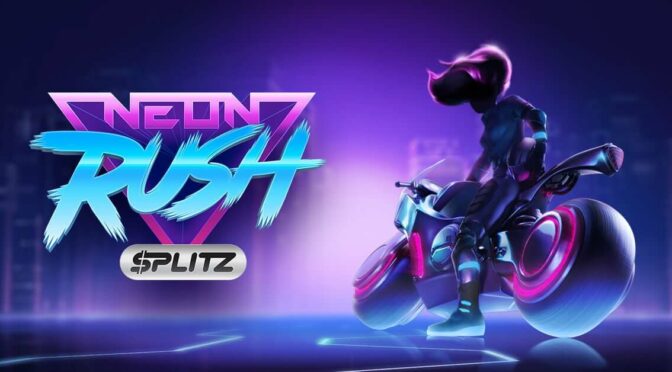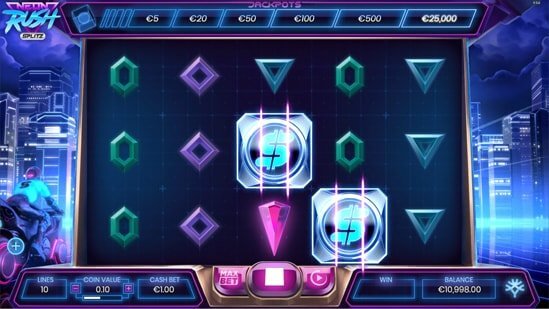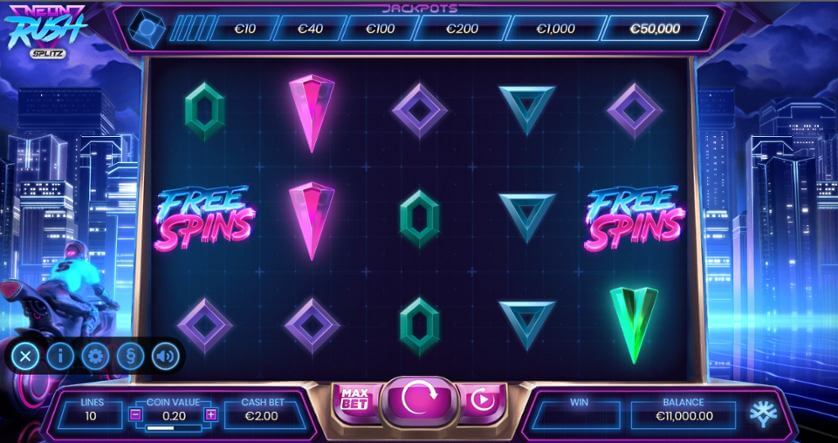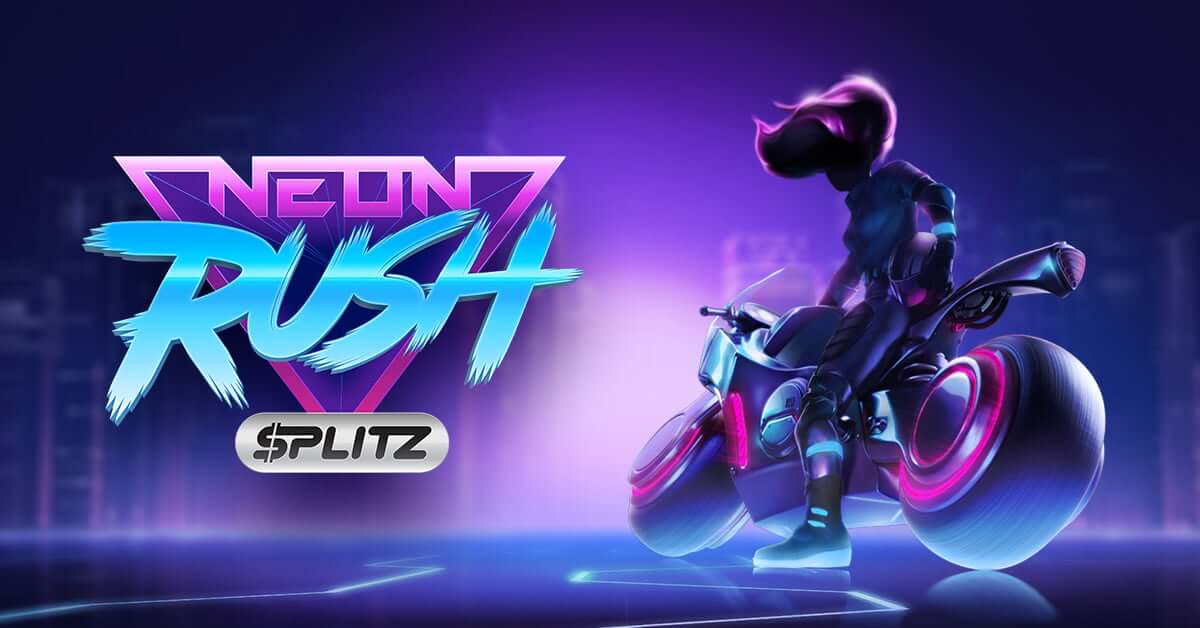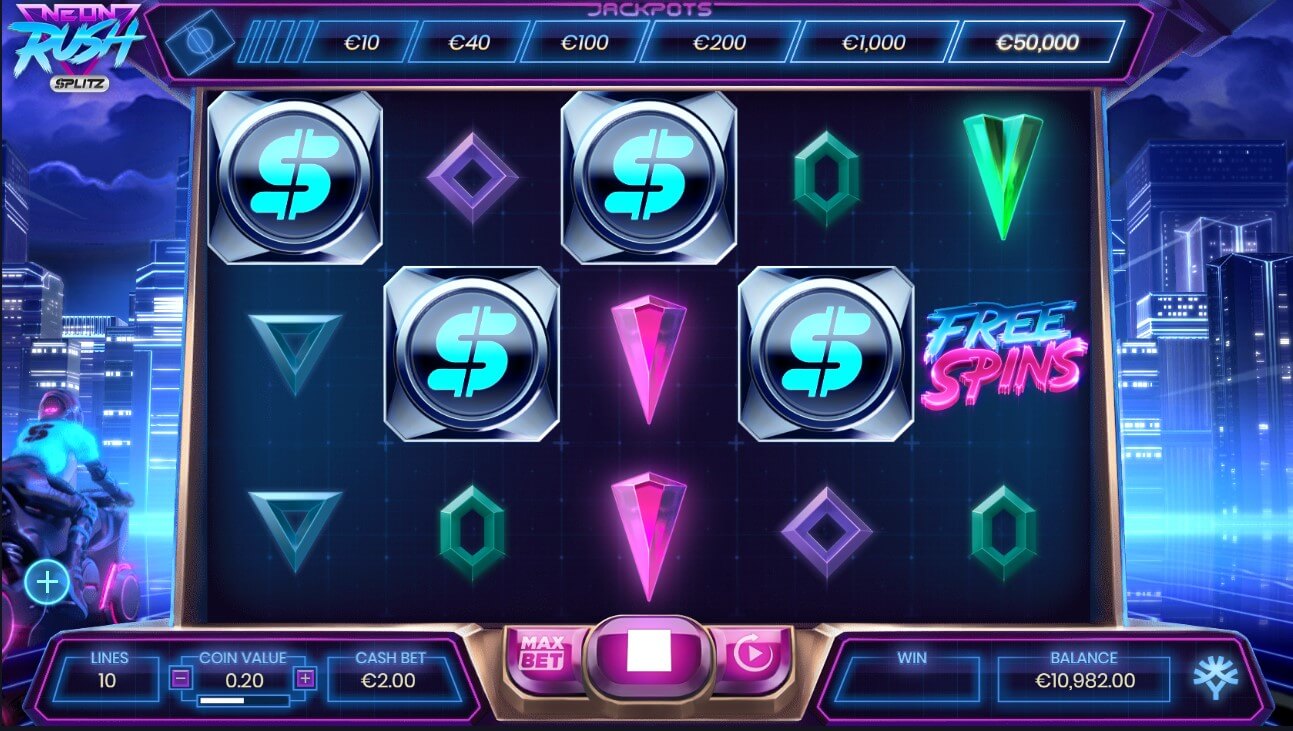 Extensive selection of games.
Has won multiple awards.
Unique loyalty program.
Multiple options for deposits and withdrawals.
Includes a sportsbook.
100+ industry-leading software providers.
Bonuses are not available for all countries.
No downloadable casino app.
Neon rush Info & Features
Optimization for mobile devices:
Yes
Maximum Winnings:
25,676x
Number Of Free Spins:
Yes
Functions:
Splitz™ Feature, Free Spins, Jackpots
Topic:
Futuristic, Neon, Cyber
Neon rush online slot
Neon Rush: Splitz™ by Yggdrasil Gaming takes players on a high-octane journey through a futuristic cityscape. The game's dazzling neon colors and dynamic soundtrack promise an exhilarating slot experience.
This flashy slot machine comes from the Swedish producer Yggdrasil. After Temple Stacks Splitz, it is the second slot from Yggdrasil that uses the Splitz game mechanism. We will explain how the Splitz mechanism works under the heading theme and storyline.
The design of the online slot machine is certainly beautiful and the combination of neon lights with the music is nicely done. Provided you can appreciate these types of themes.
Although the high possible payouts are of course attractive, it was not really our taste in terms of theme.
Theme and storyline
As you would expect from a slot machine with the neon theme, the symbols are all made in this style. The background of the slot machine consists of a large city with neon lights scattered here and there. On the right you see a motorcyclist speeding away.
It all looks quite flashy and that is further enhanced by the nice sound effects of Neon Rush Splitz.
The playing field has the usual dimensions of 5 by 3. You can normally form combinations between the symbols over 10 paylines, but this can change due to the Splitz feature.
When Splitz symbols land on the playing field, they will split into 1 to a maximum of 5 of the same symbols. This gives you a greater chance of winning and more paylines and symbols will flood the playing field.
Neon Rush Splitz RTP, stakes and variance
The payout percentage of Neon Rush Splitz is set at 96.3%. This is quite high considering the average percentage today is 96%. The payout percentage is therefore a plus.
The high volatility will also please patient players who like big prizes. You can win more than 25,000 times your bet in this slot machine, while the normal symbols can yield no less than 500 times your bet.
In terms of betting options, Neon Rush Splitz is slightly more limited than most other slots. The maximum bet is 40 euros per spin while the minimum bet is 10 cents per spin.
Features
The number of features in this slot machine is limited, but they really add something.
There is a jackpot feature that can help you win big. You can also earn free spins in Neon Rush Splitz. Unfortunately, a wild symbol cannot be found in this slot machine, but there is the Splitz feature that we have already briefly discussed.
Jackpot feature
The jackpot feature works very simply and uses jackpot symbols.
With 5 jackpot symbols you earn the Rush Jackpot of 5x your bet.
6 jackpot symbols give you 20x your stake.
7 jackpot symbols yield 50x your bet.
8 jackpot symbols provide a nice win of 100x your bet.
Grab a huge win with 9 jackpot symbols of 500x your bet.
You can win the Ultra jackpot with 10 jackpot symbols of no less than 25,000 times your bet.
Neon Rush Splitz Free Spins
To earn free spins, you must also be able to spin at least 3 scatters on the playing field in Neon Rush Splitz.
With 3 scatters you get 10 free spins, with 4 you get 20 and with 5 you get no less than 30 free spins.
During these free spins, the Splitz symbols will only spread wild or jackpot symbols across the playing field.
Demo Game
Players eager to dive into this cyberpunk universe can start their engines with the demo version of Neon Rush: Splitz™. Test the game's mechanics and features without placing real bets to get a taste of the action-packed gameplay.
Bets and Prizes
With Neon Rush: Splitz™, bettors can adjust their stakes to suit their playing style. The game is designed to enthrall with its Splitz™ feature, which can lead to massive prizes as symbols split to create more winning opportunities.
Play on Mobile Devices – Android, iPad & Tablets
This digital metropolis is not just confined to desktops. Neon Rush: Splitz™ adapts flawlessly to Android, iPad, and tablets, ensuring that the neon glow and electric wins are accessible on the go, with touchscreen functionality enhancing the interactive experience.
Graphics and Sounds
The graphics of Neon Rush: Splitz™ are a spectacle of neon lights and futuristic animations, presenting a sleek and stylish visual treat that epitomizes the theme of speed and technology.
Complementing the visuals, the game's sounds are composed of a pulsating electronic soundtrack that keeps the adrenaline pumping. Each spin and win is accentuated with sound effects that match the high-speed theme.
Strategies and Tips
To maximize your ride through this neon landscape, keep in mind:
Learn the Splitz™ Mechanic: Use the demo to understand how the Splitz™ feature works, as it's key to unlocking big wins.
Manage Your Bankroll: Due to the game's high volatility, plan your bets to sustain your gameplay and wait for those Splitz™ to align.
Chase the Jackpots: Keep an eye out for jackpot symbols. Collecting five or more can trigger one of the game's six jackpots.
Free Spin Potential: The free spins round not only gives free chances to win but also increases the Splitz™ potential for higher payouts.
Slot Verdict
Neon Rush: Splitz™ is a dazzling testament to Yggdrasil Gaming's innovative design and mechanics. The game stands out with its Splitz™ feature, providing a thrilling and potentially lucrative gameplay experience. The futuristic theme is well-executed with stunning graphics and an engaging soundtrack, making it a must-play for fans of neon-infused, high-energy slots. Get ready to race through the neon-lit streets in this visually stunning game where the future of slots is now.
More games from yggdrasil
Pros
The Splitz™ mechanic is an innovative feature that can lead to massive wins, enhancing player engagement.
There are six different jackpots available, offering a range of win potentials to suit various players.
The futuristic neon theme is visually appealing and offers a distinctive gaming experience.
Cons
High volatility may not be ideal for all players, particularly those with smaller bankrolls who prefer more frequent wins.
Limited betting range may not appeal to high rollers who prefer to place larger bets.
With only 10 paylines, some players might prefer slots with more ways to win.
Games similar to Neon rush
FAQ's
The RTP for Neon Rush is 96.3%.
Neon Rush is a high volatility slot.
The biggest win possible in Neon Rush is 25,676 times the player's stake.
Yes, Neon Rush includes a free spins bonus round which can be triggered by landing three or more scatter symbols. The Free Spins feature is enriched with the possibility of hitting Splitz™ symbols for higher payouts and jackpots.
Ella Willson
Last Updated: Nov 07,2023