Boilin' pots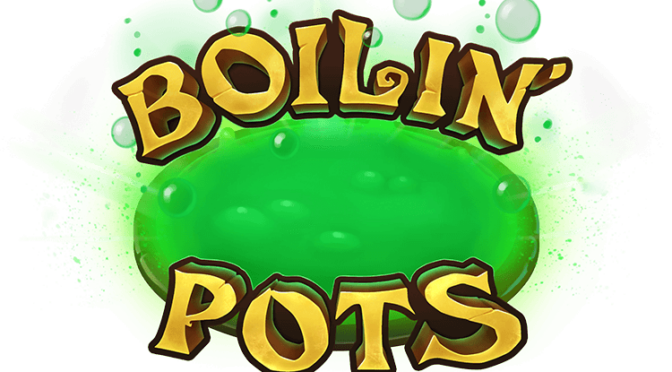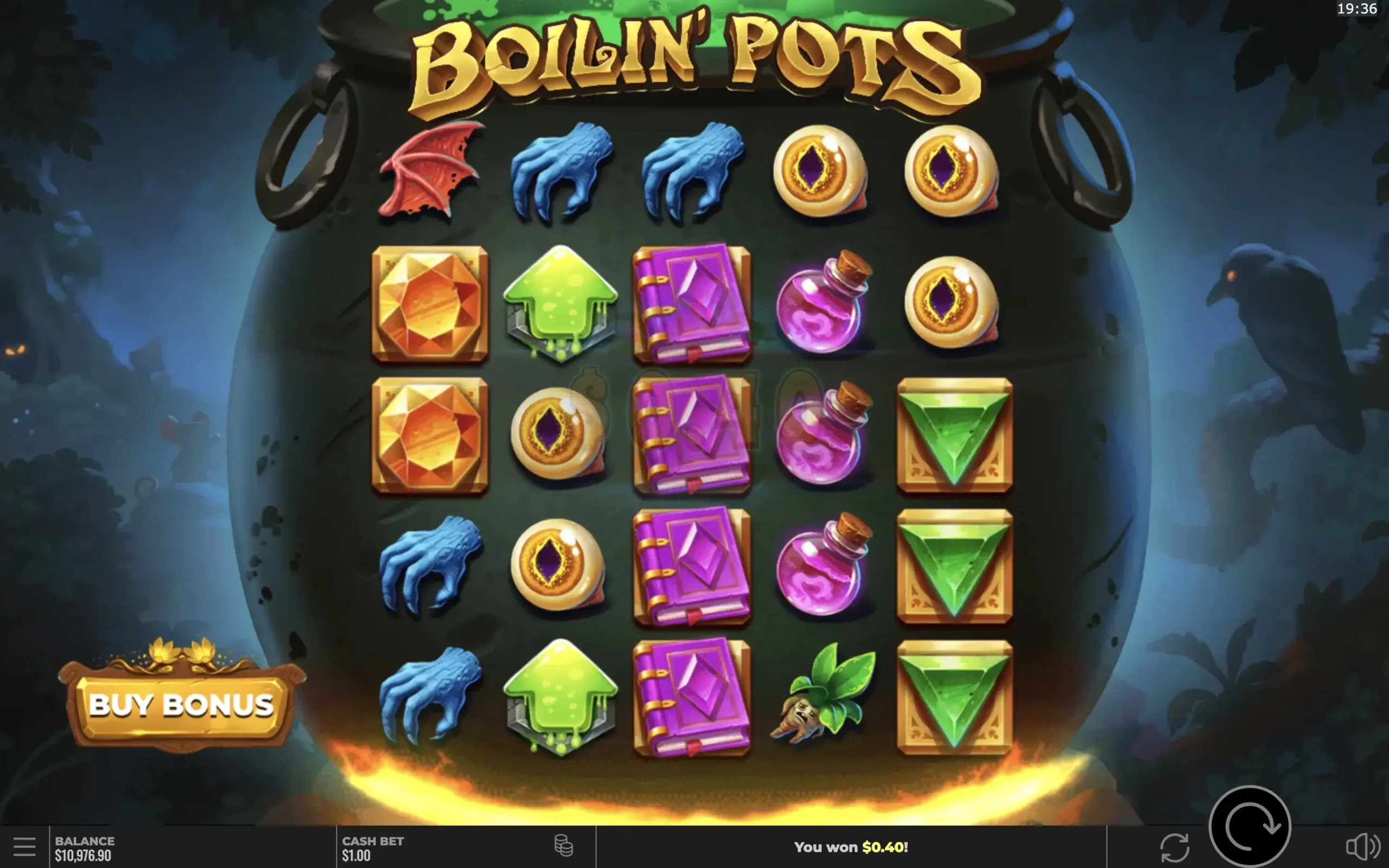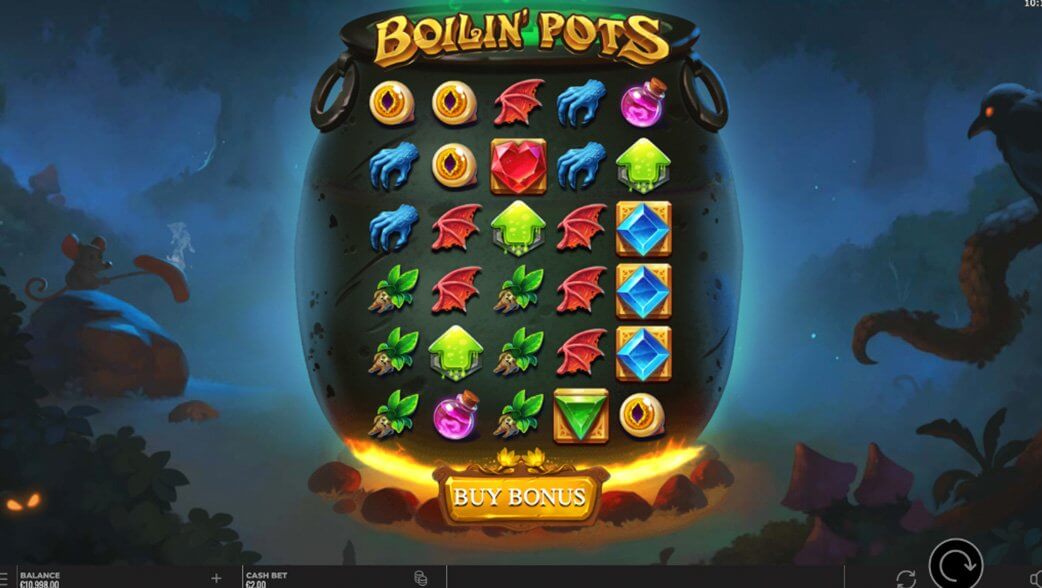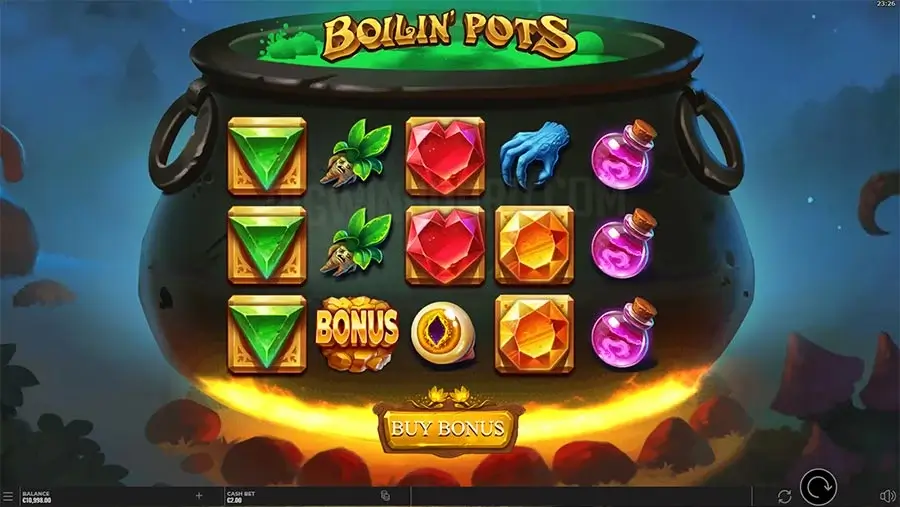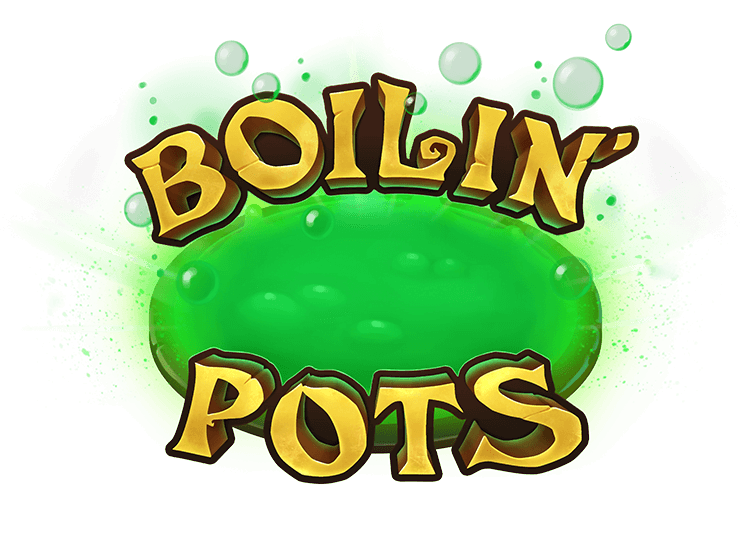 Extensive selection of games.
Has won multiple awards.
Unique loyalty program.
Multiple options for deposits and withdrawals.
Includes a sportsbook.
100+ industry-leading software providers.
Bonuses are not available for all countries.
No downloadable casino app.
Boilin' pots Info & Features
Optimization for mobile devices:
Yes
Number Of Free Spins:
Yes
Functions:
Expanding Reels, Free Spins, Wilds, Scatters, Jumping Wilds
Topic:
Magic, Fantasy, Alchemy
Volatility:
Medium to High
Boilin' pots online slot
Boilin' Pots beckons players to the alchemist's lair, where Yggdrasil has brewed up a concoction of magical features and bubbling prizes. This enchanting slot game combines mystical elements with the thrill of chance, creating an experience that is as unpredictable as it is delightful.
Theme and storyline
At least, Boilin' Pots may be about cooking, but it is not about preparing a tasty dish in the kitchen. Instead, the action in Boilin' Pots takes place in a mysterious forest.
This forest is mysterious because it is very foggy. Trees and plants are therefore hardly recognizable due to the dense fog. By expanding the dynamic playing field, the slot machine is better illuminated. This is because a tree and an owl have luminous eyes and because various mushrooms light up brightly. In addition, the camera zooms out a bit if you manage to expand the playing field, so that a larger part of the environment can be seen. In the middle of the screen you can see a large cooking pot on which the playing field is projected. A green substance bubbles in the cooking pot.
At first we didn't think the design was special. However, that changed when the camera zoomed out and we got to see a larger part of the environment. We are very pleased with the design of Boilin' Pots with a maximum expanded playing field.
Boilin' Pots RTP, stakes and variance
As you know by now, Boilin' Pots uses a dynamic playing field.
Each spin the slot machine starts with a standard playing field with dimensions of 5×3 and 243 different ways to win. However, you can expand the playing field by 4 rows during a spin, so you play with dimensions of 5×7. The number of ways to win also increases to 16,807.
The casino online minimum bet at Boilin' Pots is 10 cents and the maximum bet is 40 euros per spin. There is a very average RTP of 96.0%.
The variance is actually not average. Yggdrasil itself describes the variance as super high. At best, you will win 10,114 times your stake in this game.
Features
An important part of the game Boilin' Pots has of course to do with the fact that you can expand the playing field. This involves special Arrow symbols. By spinning an Arrow symbol, an extra row of 5 symbols is added to the playing field. In this way the playing field can be a maximum of 7 rows high. At the end of a spin, the playing field is returned to the standard dimensions of 5 by 3 symbols.
Another interesting feature in Boilin' Pots is the Rising Reels Bonus Game. This is actually the free spins feature of the game. You can buy this for 50 times your stake. You can also look forward to the Wild Respin feature in the base game.
Wild Respin feature
The Wild Respin feature is activated in Boilin' Pots if you manage to spin at least 4 Arrow symbols during a spin. This feature actually works very simply. As long as you can continue to make winning combinations, you will continue to receive respins.
As soon as a respin is not winning, the feature ends. The special thing about these respins is that wilds can land on the playing field in stacks of 3. That of course increases the chances of a winning spin.
Boilin' Pots free spins
The free spins feature of Boilin' Pots is a bit unusual in our opinion. You can earn free spins by spinning at least 3 scatters.
3 scatters award 3 free spins and a cash prize of 10 times your stake.
4 scatters award 3 free spins and a cash prize of 100 times your stake.
The Rising Reels Bonus Game (the free spins feature of Boilin' Pots) is played on a playing field with dimensions of 5×7. Only Cash symbols and Win symbols can land on this playing field.
Cash symbols have a bet multiplier of x1, x2, x3, x5, x25 or x50 attached to them.
Win symbols have a bet multiplier of x100, x200, x500, x1,000 or x5,000 associated with them.
Strangely enough, the free spins feature only has 1 payline. That is the middle row on the playing field. This row is outlined in blue. To reset the number of free spins to the starting number of 3, you must spin a Cash symbol or a Win symbol on the payline. If you do not succeed within 3 free spins, the free spins feature ends.
Yggdrasil has built in a mechanism that ensures that the free spins feature always yields at least 5 times your bet. If not, the feature continues until the prize money exceeds 5 times your stake.
Demo Game
Dive into the alchemical experiment with the demo version of Boilin' Pots. It's the perfect opportunity to stir the pot and witness the magic without spending a single coin. Players can familiarize themselves with expanding reels, wandering wilds, and symbol upgrades, all while keeping their bankroll intact.
Bets and Prizes
Boilin' Pots welcomes gamblers of all levels with a versatile range of bets. Whether you're a cautious apprentice or a master of max bets, you'll find a stake to suit your style. The prizes bubble up through a unique combination of features that can expand the reels for more winning opportunities, making it possible to conjure up some significant rewards.
Play on Mobile Devices – Android, iPad & Tablets
Alchemy requires precision, and thankfully, Boilin' Pots is crafted to work seamlessly across mobile devices. Whether using an Android, iPad, or tablet, the graphics remain crisp, and the gameplay smooth, ensuring players can continue their mystical quest for wins anywhere, at any time.
Graphics and Sounds
The graphics of Boilin' Pots are a whimsical blend of the arcane and the charming. With potion bottles, magical plants, and ancient runes as symbols, each spin is a visual pleasure. The expanding reels bring a dynamic feel to the game, adding to the excitement with each growth.
Sounds in Boilin' Pots are just as enchanting, with a soundtrack that evokes the mysterious and the mystical. The bubbling of the alchemist's potions and the chimes of successful concoctions provide an auditory backdrop that complements the theme perfectly.
Strategies and Tips
In the world of alchemy, a strategic mind can turn lead into gold:
Manage Your Bankroll: Keep your betting in line with your budget to ensure that the fun lasts longer.
Know the Features: Understanding how the reel expansions and wandering wilds work will better prepare you for what to expect during gameplay.
Experiment in Demo Mode: Use the demo game to try different betting strategies without any risk.
Patience for the Potion: The slot's higher volatility means wins might not come as often, but patience can lead to more sizable pots of gold.
Slot Verdict
Boilin' Pots by Yggdrasil stands out with its engaging alchemy theme and interactive features. The game offers a magical twist on the traditional slot experience, where each spin can lead to unexpected and thrilling results. With the potential for expanding reels and dynamic gameplay, Boilin' Pots is more than a simple slot game; it's an adventure into the mystical realm of rewards. Whether you're in it for the fun or the fortune, Boilin' Pots promises a concoction that's brimming with entertainment.
More games from yggdrasil
Pros
Expanding reels feature creates dynamic gameplay and increases ways to win.
The alchemy and magic theme is well-executed with engaging graphics and sound effects.
The Jumping Wilds in the bonus game add an exciting layer to the standard Free Spins feature.
Cons
The maximum win potential of 4,000x might be lower compared to other Yggdrasil slots with high volatility.
Medium to high volatility might not be suitable for players with a low-risk tolerance.
The absence of cascading reels and a repeat spins feature could be seen as a drawback by players who enjoy these mechanics.
Games similar to Boilin' pots
FAQ's
The payout percentage of Boilin' Pots is 96.0%.
Boilin' Pots has medium to high volatility.
The biggest win possible in Boilin' Pots is up to 4,000 times the player's stake.
Yes, Boilin' Pots includes a free spins bonus round, which is enhanced by the addition of Jumping Wilds and expanding reels for more winning opportunities.
Ella Willson
Last Updated: Nov 03,2023