Dreams and dollars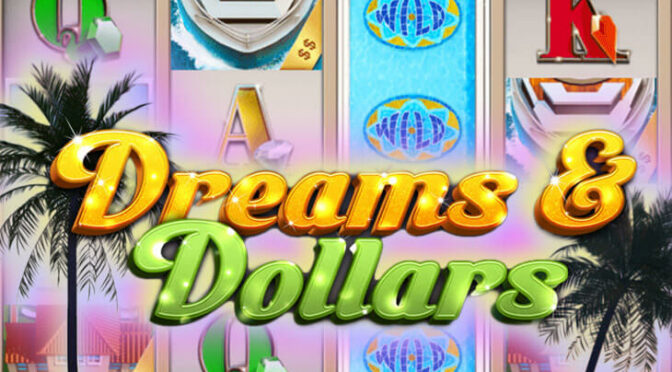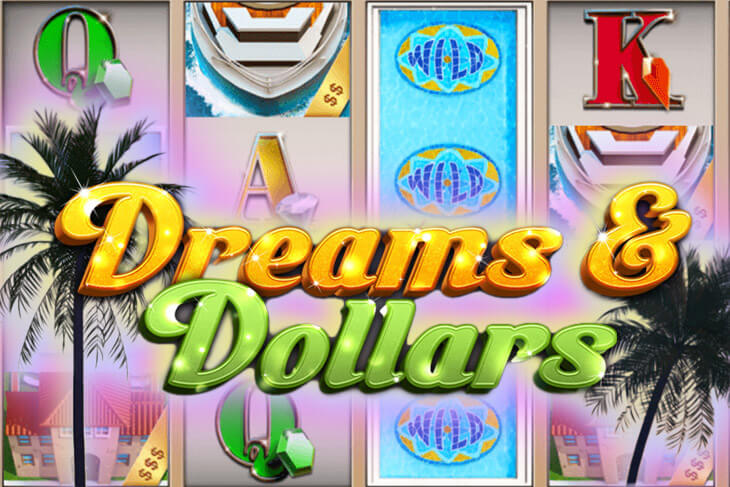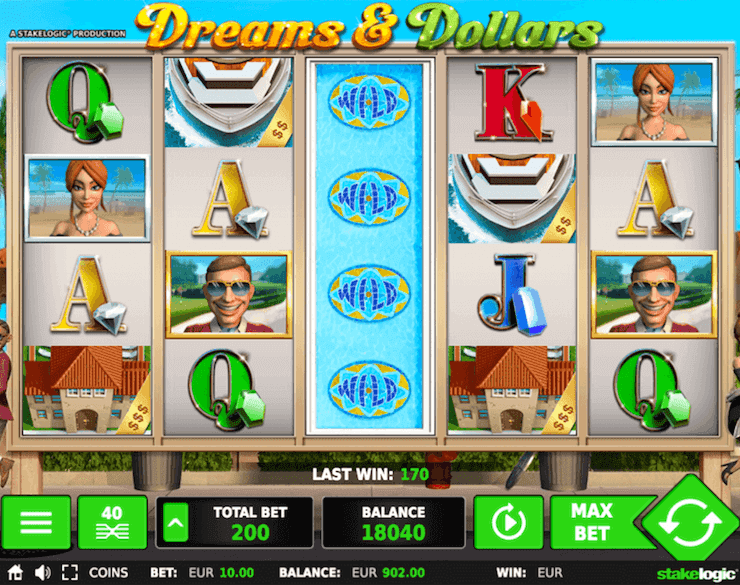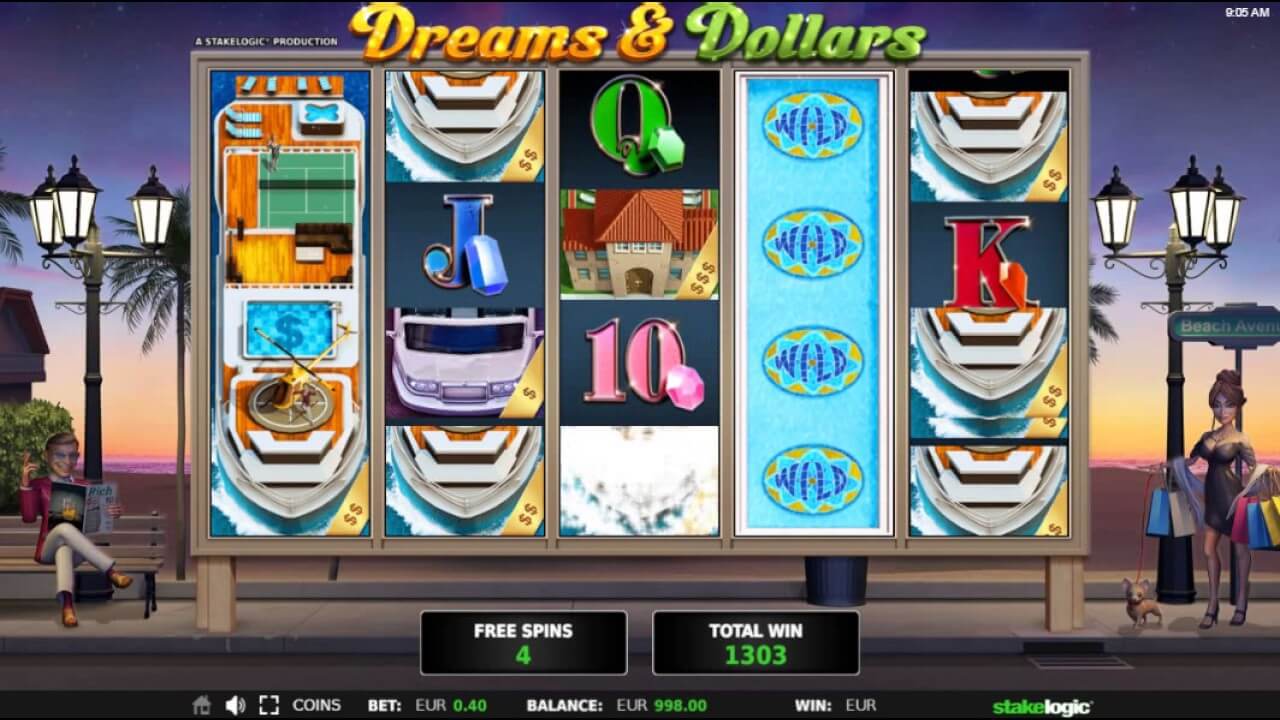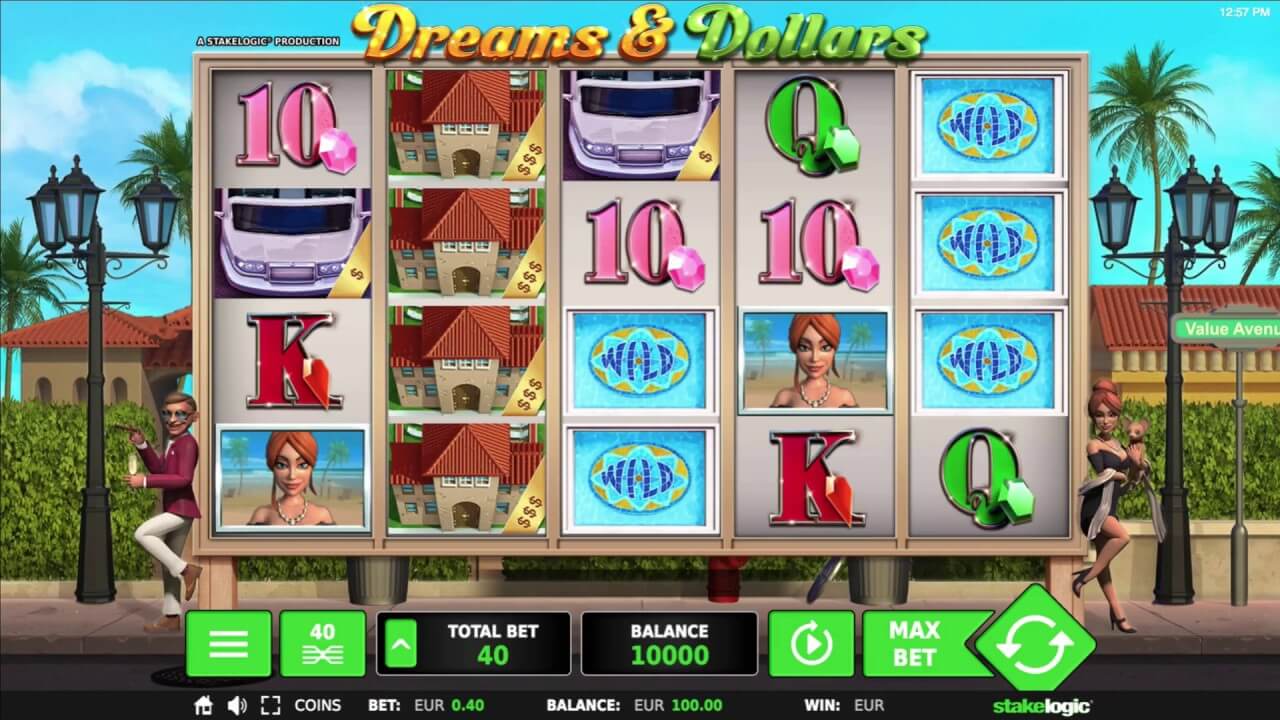 Extensive selection of games.
Has won multiple awards.
Unique loyalty program.
Multiple options for deposits and withdrawals.
Includes a sportsbook.
100+ industry-leading software providers.
Bonuses are not available for all countries.
No downloadable casino app.
Dreams and dollars Info & Features
Optimization for mobile devices:
Yes
Maximum Winnings:
750,000
Number Of Free Spins:
10-20
Functions:
Multipliers, Dream or Wealth-themed bonus features
Topic:
Dreams, Wealth, Dollars
Dreams and dollars online slot
Get ready to indulge in a world of opulence and extravagance with Stakelogic's slot game, Dreams and Dollars. This lavish slot invites players to experience the life of luxury, witness grandeur, and pursue wealth in a high-stakes gaming adventure.
About Dreams and Dollars
A beautiful villa, luxury yacht, expensive car and a beautiful woman. Oh yes, and a glitzy coupe soleil. Who doesn't dream about it? Dreams and Dollars makes you dream about it.
At least, that's what Stakelogic's Dreams and Dollars slot machine tries to do. But while slot machines with a similar theme such as Mega Fortune and Mega Fortune Dreams sometimes make dreams come true by paying out millions of euros, the maximum win on Dreams and Dollars is quite limited.
You can win a maximum of 500 times your stake per spin. That's €20,000 with the maximum bet. You will get winning spins quite often thanks to the medium variance and the payout percentage of 96 percent.
How does the Dreams and Dollars slot machine work?
You can start dreaming from just €0.40. You then play with €0.01 on each of the 40 paylines of Dreams & Dollars. The maximum bet is 1 euro per payline. That gives you a total bet of 40 euros per payline. Dreams & Dollars is a slot with a medium variance, so it doesn't hurt to bet a little bigger than you are used to in the online casino.
The basic game is tough and not that special. You have to spin stacks with the same symbols to make something of it. Five times Mr. Fortune, for example, gives you 200 times the bet per payline. In other words, five times your total bet. Then you know: dreams remain dreams in the basic game.
Other symbols are Lady Luck, a villa, a luxury yacht, a limousine and the playing cards. The pool in the garden is the Wild symbol. If you are very lucky, you will spin a combination of five Wild symbols on one of the 40 paylines. That gives you 500 times the bet per payline. It doesn't get more fun in the basic game.
Free spins bonus
Dreams and Dollars is only starting to come to life in the bonus game. You unlock the bonus game if you have filled the entire screen with bonus symbols. Fortunately, that sounds a bit more difficult than it is. The bonus symbols are in large stacks on the reels. Do you have a stack with bonus symbols on the first reel? Then you get re-spins. The re-spins continue as long as you keep spinning bonus symbols. A full screen means that you have received the bonus.
This Lock and Spin mechanism is also used for the bonus spins. Do you have a stack with Mr. Fortune, Lady Luck, the villa, limousine or the luxury boat? Then this stack remains standing and you get respins. Any Wild symbols also remain during the respins.
You get respins as long as you keep spinning extra win symbols or Wilds. Or until your screen is full of the premium symbol that started it all and the Wilds. At best, this will give you 200 times your total bet.
Demo Game
Before you dive into a world of luxury and riches, take a moment to get acquainted with the game through its demo.
Extravagant Preview: The demo mode allows you to experience the game's lavish charm without risking your own bankroll.
Opulent Exploration: Most reputable online casinos offer this extravagant demo. Find the game and select 'Play for Fun' or 'Demo' to immerse yourself in the world of Dreams and Dollars.
Insight into Luxury: The demo provides insights into the game's unique features and mechanics, preparing you for your extravagant journey with Dreams and Dollars.
Bets and Prizes
In this opulent adventure, every spin of the reels has the potential to bring forth grand rewards.
Betting Range: Dreams and Dollars offers a wide range of betting options, suitable for both cautious players and those seeking to live the high life with bold bets.
Lavish Rewards: Beyond standard wins, the game boasts special bonuses and features that can add an extra layer of extravagance to your gaming experience.
Luxurious Fun: With its luxurious symbols and high-stakes gameplay, Dreams and Dollars promises an unforgettable journey into a world of wealth and opulent wins.
Play on Mobile Devices – Android, iPad & Tablets
Carry the extravagance with you on your mobile device, whether it's Android, iPad, or tablets.
Mobile Luxury: Stakelogic ensures seamless gameplay on mobile devices, offering a lavish slot experience on the go.
Portable Grandeur: Regardless of your device, the game's extravagant visuals and rich sound effects remain as captivating and immersive as ever.
Consistent Opulence: The mobile version retains the game's luxury-themed graphics, sumptuous sound effects, and core gameplay from the desktop version.
Graphics and Sounds
Immerse yourself in a world where opulence and grandeur come to life with stunning visuals and rich sounds.
Rich Visuals: The game features symbols like expensive jewelry, luxury cars, and lavish mansions, each presented with opulent detail.
Extravagant Soundtrack: The soundtrack adds to the luxury, enhancing the immersive experience and adding to the game's grand atmosphere.
Design Elegance: Every element in Dreams and Dollars is meticulously designed to provide a visually sumptuous and opulent gaming experience.
Strategies and Tips
To maximize your chances of experiencing grand wins in the world of Dreams and Dollars, consider these tips:
Luxury Mastery: Explore the game's paytable to understand the value of symbols and the mechanics of special luxury-themed features.
Budgeting for Riches: Set a gaming budget to enjoy the extravagant adventures without risking too much of your own bankroll.
Pre-Extravagance Practice: Start with the demo version to become familiar with the game's mechanics and prepare for your lavish journey with Dreams and Dollars.
Slot Verdict
Dreams and Dollars by Stakelogic offers players an immersive and opulent gaming experience that immerses them in the world of luxury, wealth, and the pursuit of riches. For those who appreciate high-stakes themes and the allure of grandeur, this game is an ideal choice. Are you ready to indulge in a life of luxury and pursue extravagant wins with Dreams and Dollars? Begin your opulent journey today!
More games from stakelogic
Pros
Intriguing dream and wealth theme that appeals to players chasing big wins.
Potential for significant wins with multipliers and dream or wealth-themed bonus features.
Engaging gameplay with a focus on symbols related to dreams and wealth.
Cons
Medium-high volatility might not suit players looking for low-risk gameplay.
The theme may not be appealing to players not interested in dreams or wealth.
Lack of a progressive jackpot.
Games similar to Dreams and dollars
FAQ's
Speculatively, the RTP of Dreams and Dollars could be around 96%.
Dreams and Dollars might have medium-high volatility.
The speculative biggest win possible in Dreams and Dollars is 5,000x the stake.
Yes, based on this speculative profile, it might offer a free spins bonus round with dream or wealth-themed features.
Ella Willson
Last Updated: Oct 30,2023