Ares the battle for troy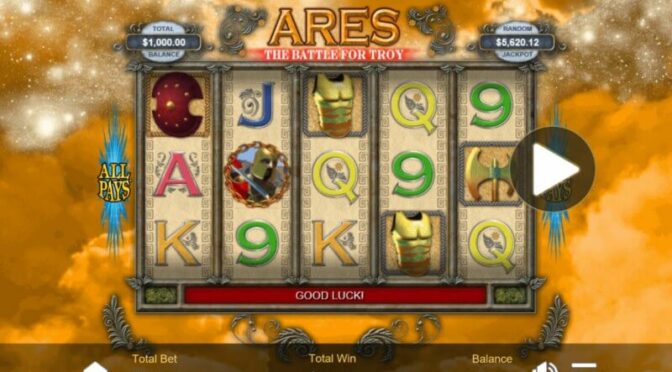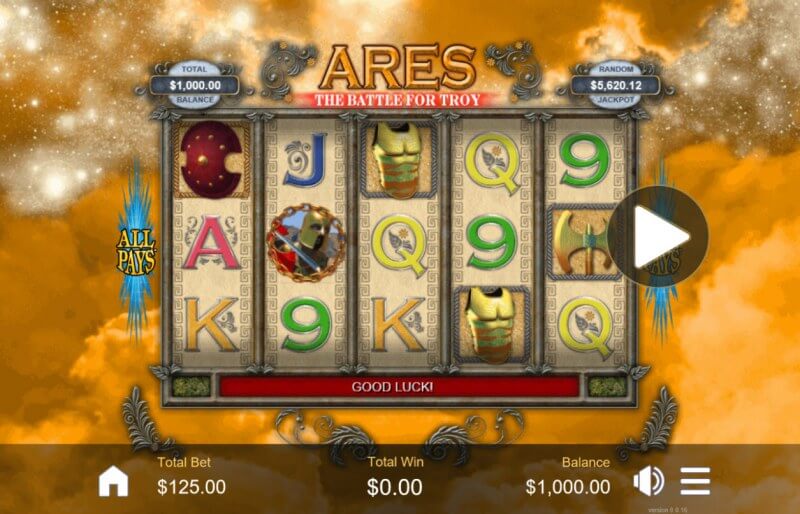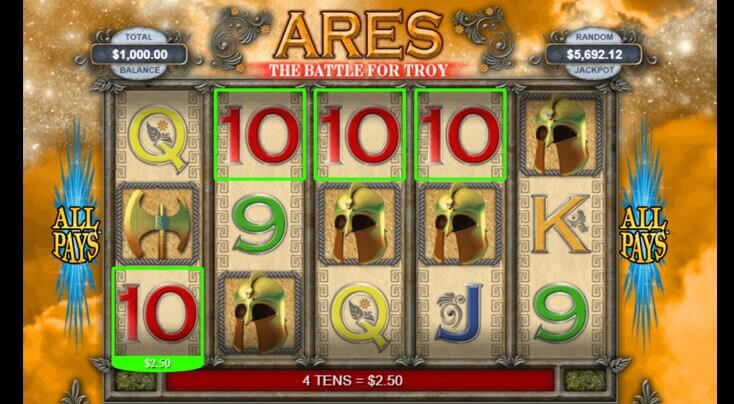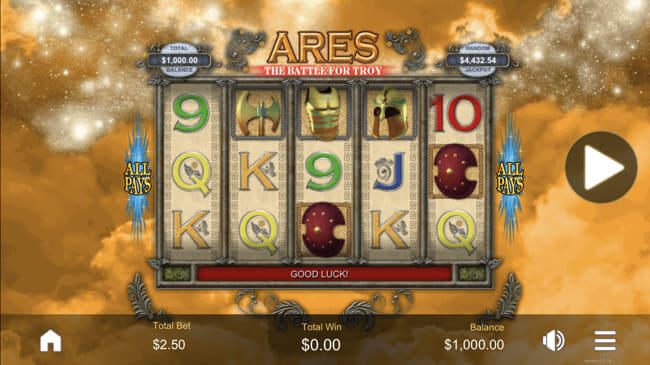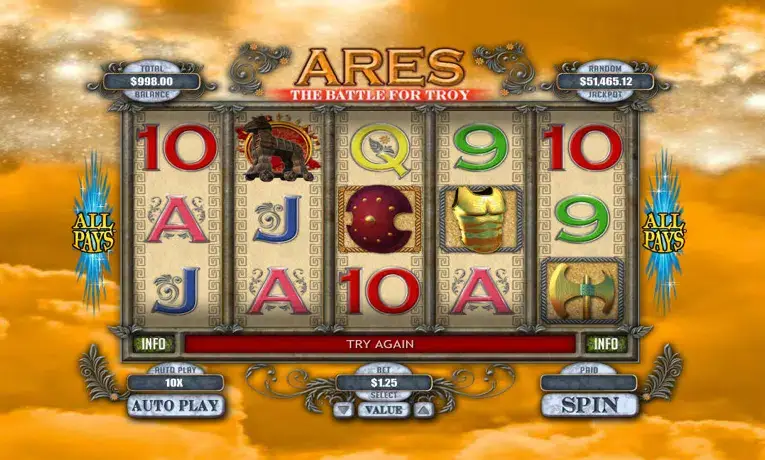 Extensive selection of games.
Has won multiple awards.
Unique loyalty program.
Multiple options for deposits and withdrawals.
Includes a sportsbook.
100+ industry-leading software providers.
Bonuses are not available for all countries.
No downloadable casino app.
Ares the battle for troy Info & Features
Optimization for mobile devices:
Yes
Maximum Winnings:
240,000
Functions:
Bonus rounds, multiplier rewards
Topic:
Greek Mythology, Trojan War, Ares
Ares the battle for troy online slot
Step back in time to the era of epic heroes, fierce battles, and legendary tales with RealTime Gaming (RTG) in Ares: The Battle for Troy. This slot will whisk you away to the frontlines of the legendary Trojan War, where gods and mortals clashed, and great treasures were won.
War is a subject that few of us find amusing, but that many of us find is a decent outlet for gaming; we enjoy the battering sound of bullets as they ring off of the enemy. It's a bloody experience more often than not, but usually in a highly fictional way that removes us from realistic harm. That is what you're getting from RTG and their slot machine Ares: The Battle for Troy.
This is an Ancient Greek slot about the god of war, Ares, and his violent nature. It's about battling for who claims the city of Troy as their own. All in all it's an historical walk down memory lane, but in a presentable and engaging format that we can relate to. Gamers will have 5 reels and 243 ways to play, followed with a medium variance paytable. Everything so far has informed us that this is going to be an intense title, but will it work out that way once we get playing?
Drama from the Heavens
One of the first aspects of the real cash slot we noticed was the style, for it doesn't look how we had it expected it to. Typically in Ancient Greek or Roman slots, you have ornate columns and lots of toga clad men, but here you have a clashing of the universe playing out behind the grid. It feels very god-like, but in a way we're not accustomed to.
The textured clouds of the rolling heavens, dotted with stars, creates an airy experience despite the dark subject matter unfolding on the reels. Furthermore, the symbols on the grid are far from aggressive, but more gentle in their aesthetic. This in turn creates a more inviting game with which people can play; obvious violence can put so many potential players off.
Trojan Power
Most of us know about the Trojan Horse tactic that was adopted to take power of Troy, even if we've never read a history book in our lives; we're all aware of this cunning plan. In terms of cunningness in this title, we'd say that the Trojan Horse Bonus is a little of column A and a little of column B. It works as a precursor to the mini game, but it's not as impressive as it could have been.
To launch your very own personal attack, you need to get three of the scatter icons – that's the Trojan Horse – and start to pick from numerous rows of shields. Each of these shields hide either a prize or a symbol that'll end the round and return you to the base game. Should you be fortunate enough to progress through this level without any 'Collect' signs in sight, you'll then have to pick from helmets for extra prizes.
Uncomplicated Attacks
In terms of the gameplay you're working with here, you have a rather easy going one thanks to the 243 ways to play. This means that conventional paylines are done away with, and therefore more wins should be coming your way. The thing is, with such a dynamic setup, surely we have to pay a lot of money to experience it…? That would be a no, actually.
RTG has given its users a very flexible betting range that, while not as low as can be, is so reasonable most budgets can get involved. The starting wager is a mere 0.25 credits, while the top end of the pay-in is valued at 125.00. We grant that the latter is less friendly, but that doesn't make it less accessible. We measure accessibility on how diverse the range is, and as you see, Ares: The Battle for Troy is extremely diverse.
Demo Game
Ideal for history buffs and slot veterans alike, the demo version of Ares: The Battle for Troy provides:
A journey to ancient Greece, experiencing the grandeur and perils of the Trojan War without risking any golden drachmas.
An arena to grasp the game's mechanics, the significance of each heroic symbol, and the treasure-laden bonuses concealed within the ancient city walls.
An epic saga showcasing RTG's splendid graphics, atmospheric soundtracks, and engrossing gameplay.
Bets and Prizes
Ares: The Battle for Troy ensures every warrior can claim their share of glory:
Minimum Bet: Crafted for those seeking to earn their spurs in minor skirmishes.
Maximum Bet: Designed for legendary heroes ready to lead the charge against formidable foes.
Prizes: Align symbols of valiant warriors, imposing warships, and the god Ares himself to reap diverse rewards. Specific combinations may unveil the vast riches of ancient Troy.
Play on Mobile Devices – Android, iPad & Tablets
With RTG's commitment to modern warriors, the tales of old are now accessible on the go:
Fully Optimized: Engage in epic battles and strategic moves smoothly on any mobile platform.
Supported Devices: Whether wielding an Android device, iPad, or other tablets, the drama of Ares: The Battle for Troy remains intensely vivid.
Consistent Experience: Seamlessly transition between desktop battlefields and mobile warzones, ensuring your heroic saga continues uninterrupted.
Graphics and Sounds
Embodying RTG's dedication, Ares: The Battle for Troy stands out as an audiovisual masterpiece:
Graphics: Majestic reels populated by characters and artifacts straight out of ancient myths, promising an immersion into the world of epic legends.
Sounds: The rhythmic clang of swords, the resonant beats of war drums, and an atmospheric score truly evoke the grandeur of ancient battles.
Strategies and Tips
While the gods often determine the fate of battles, a few tactics can enhance your conquest:
Decipher the Scrolls (Paytable): Familiarize yourself with the game's symbols, particularly those that can ignite powerful bonus rounds.
Draft a Battle Plan: Set your gameplay limits, ensuring a balanced blend of thrill and strategy.
Harness the Power of Bonus Features: Engage with these rounds to potentially amplify your treasures and delve deeper into the saga of the Trojan War.
Slot Verdict
Ares: The Battle for Troy by RTG is a masterful blend of historical allure and slot gaming thrill. Inviting players into a world of heroics, divine interventions, and vast treasures, the game ensures an unparalleled experience complemented by bounteous rewards. If you've ever dreamt of walking alongside the heroes of yore or are searching for a slot adventure steeped in legend, Ares: The Battle for Troy is your battleground. Do you have the courage to stake your claim in the annals of history? The reels of Ares await your legendary exploits!
Pros
Immersive theme based on Greek mythology and the Trojan War.
Multipliers and bonus rounds add depth and winning potential.
Engaging graphics and symbols related to the theme.
Cons
Medium volatility might not appeal to players seeking high-risk, high-reward gameplay.
The Greek mythology theme, though popular, is common in slot games.
Absence of a progressive jackpot might deter jackpot hunters.
Games similar to Ares the battle for troy
FAQ's
Speculatively, the RTP of Ares: The Battle for Troy RTG could be around 95.1%.
Ares: The Battle for Troy RTG might have medium volatility.
The speculative biggest win possible in Ares: The Battle for Troy RTG is 2,400x the stake.
Yes, based on this speculative profile, it might offer 12 free spins.
Ella Willson
Last Updated: Nov 01,2023