Birds of fury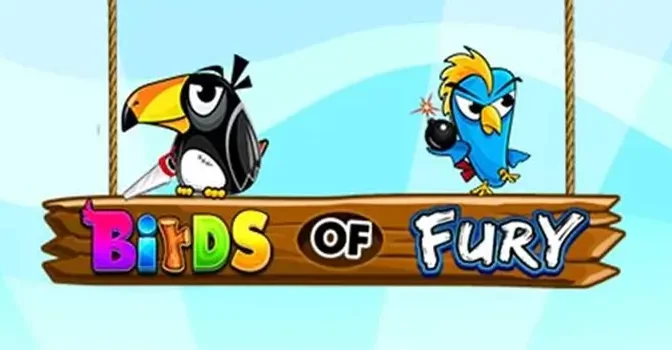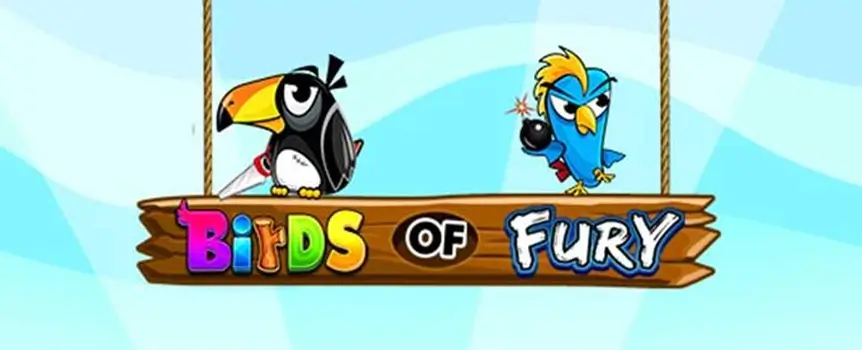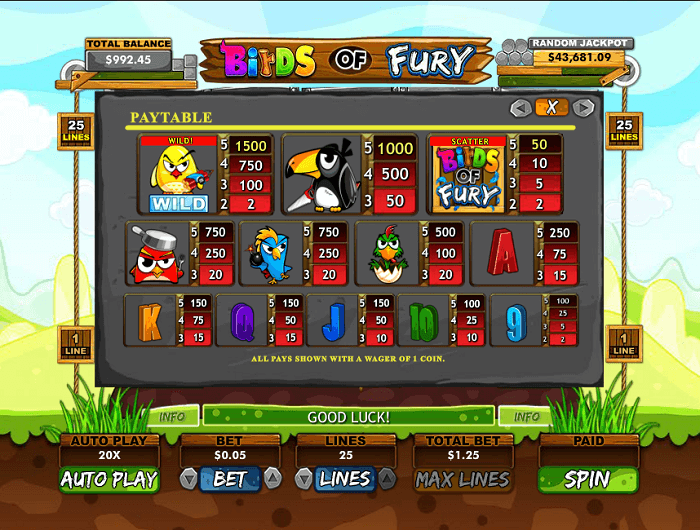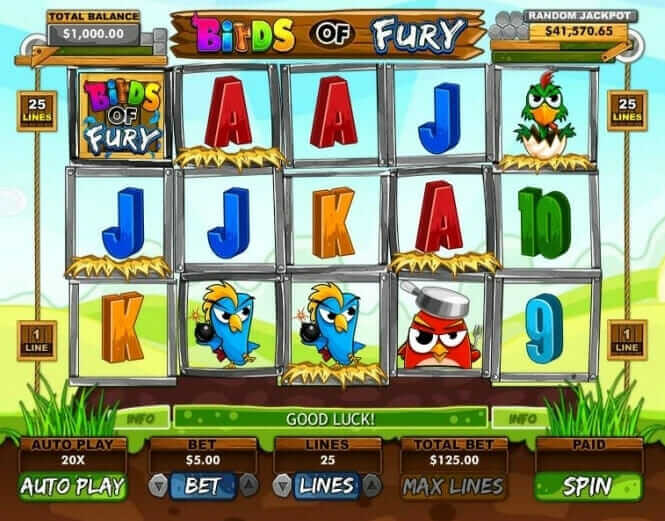 Extensive selection of games.
Has won multiple awards.
Unique loyalty program.
Multiple options for deposits and withdrawals.
Includes a sportsbook.
100+ industry-leading software providers.
Bonuses are not available for all countries.
No downloadable casino app.
Birds of fury Info & Features
Optimization for mobile devices:
Yes
Maximum Winnings:
230,000
Functions:
Bonus rounds, multiplier rewards
Topic:
Birds, Nature, Fury
Birds of fury online slot
Prepare to take flight with RealTime Gaming (RTG) in Birds of Fury, a whimsically animated slot game filled with vibrant birds, feathery features, and sky-high prizes. Join the flock and get ready for a whirlwind adventure among the clouds.
The gaming industry is such a complex one, for very few ideas are ever truly original, however we keep seeing more and more imitations. Birds of Fury is a great example of this. Created by RTG, we can rest assured that it's a solid gaming experience, however the aesthetic is what causes us issues: it looks like a copy of Angry Birds.
Most of you will know that game, even if you've not played it, because of how popular and widely played it is. So in that respect it makes sense for other brands to try and capture that level of popularity. That being said, we'd have preferred that RTG had been more innovative. Yes, this slot machine essentially gives you Angry Birds in a slot layout, but they could have easily developed an animal themed slot with more unique qualities.
Anger Issues
By taking a closer look at the interface, we can start to see a few contrasts, which help us ease up on the anger that the sameness had originally instilled inside of us. The birds we see here are remarkably like the ones seen before, but they don't appear to have any enemies. In fact, they merely seem to just be bad tempered birds that are looking for numerous violent outlets.
In terms of where all this frustration is taking place, it's in a lovely green hillside that has constant summer sunshine, with no wind or other extreme elements. Peace in the face of angry chaos. The aesthetic of which is highly cartoony, looking like a children's book rather than high quality graphics on a computer screen. What is more, the imagery is 2D instead of 3D, which is quite unusual to see in contemporary slot machines.
In a Flap
When it comes to the gameplay, the variance here is on the low to medium side, with only one feature to its name: the Birds of Fury Scatter. As you can tell from the title of the bonus, this is a low impact feature that delivers free spins and little else. Yes, there's a x2 multiplier applied to all the wins that you make, but if you fail to win anything, that luxury is wasted on you.
This is yet another time we're having to moan about the lack of depth when it comes to RTG's diversity. They're such a good brand, yet they never seem to get this aspect correct. They instead focus on the way the interface looks and is laid out, rather than accepting that looks are less important than the bonuses they could include.
Calm Animals
When it comes to the rage that these birds are showing us, we can't help but long for a more relaxed, less intense game; one that is safe and away from harm. That's what led us to seek out the slot machine Origami, a real cash slot by Endorphina. From the title alone, you wouldn't anticipate a happy animal filled interface, and yet that's exactly what you get.
The entire matrix is just artwork of multiple animal shaped pieces of origami, with their cute faces and crisp edges delivering a tranquil space in which to play. We were charmed more than we expected to be, and so we think it's the perfect 5 reels to visit once the birds have exploded with anger across the reels of the RTG grid.
Anger Management
Concluding Birds of Fury is one that we find easy, but that is still quite a painful process for us to experience, mainly because we're leaving a less than positive review. On the surface this is an attractive slot machine, but once you note the similarities between Angry Birds, it starts to lose its charm.
Then you add into that mix the issue of a limited paytable, and you start to realise that this is one sham of a slot machine. It is playable and can deliver decent returns for a small punt of 0.25 credits, but that's about it. We definitely wouldn't spend the 125 maximum bet.
Demo Game
Perfect for fledglings and seasoned players alike, the demo version of Birds of Fury provides:
A breezy journey into the avian world, minus the risk of losing any worms.
A perching spot to familiarize oneself with the game's dynamics, feathered symbols, and the fluttering bonuses that lie in nest eggs.
A full-fledged flight experience spotlighting RTG's crisp graphics, chirpy soundtracks, and flapping fun gameplay.
Bets and Prizes
Birds of Fury ensures every player finds their feathered fortune:
Minimum Bet: Crafted for those taking a casual fly-around amidst the treetops.
Maximum Bet: Geared towards those ready to soar high above the mountains in pursuit of the biggest treasures.
Prizes: Align symbols of chirpy chickadees, ruffled robins, and fierce falcons to gain various rewards. Special combinations can unlock the forest's most coveted treasures.
Play on Mobile Devices – Android, iPad & Tablets
In this modern nest, RTG ensures Birds of Fury's fun is just a tap away:
Fully Optimized: Enjoy the bird's-eye view with impeccable gameplay across any mobile platform.
Supported Devices: Whether on an Android device, iPad, or other tablets, the aerial antics of Birds of Fury remain vivid and entertaining.
Consistent Experience: Flutter effortlessly from desktop to mobile, ensuring your high-flying adventures are never interrupted.
Graphics and Sounds
Staying true to RTG's legacy, Birds of Fury offers visual and auditory treats:
Graphics: Bright reels filled with animated avians, each displaying unique personalities, ensure players are always entertained.
Sounds: Uplifting tunes combined with chirps, tweets, and the occasional squawk encapsulate the forest's lively ambiance.
Strategies and Tips
While the skies are governed by fate, a dash of strategy can elevate your game:
Explore the Paytable: Familiarize yourself with the avian actors, especially those that activate exciting bonus rounds.
Decide on a Flight Path: Plan your game strategy by setting limits, ensuring a thrilling yet sustainable gameplay experience.
Engage with Bonus Features: Make the most of the bonus rounds as they can boost your rewards and offer deeper insights into the game's feathery narrative.
Slot Verdict
Birds of Fury by RTG is a delightful blend of avian charm and slot gaming thrill. Whisking players to a world filled with animated antics, vibrant visuals, and a chorus of chirps, the game ensures an entertaining experience coupled with the promise of sky-high rewards. If you're fascinated by the feathery world or are on the hunt for a chirpy slot adventure, Birds of Fury is the perfect perch. Ready to take flight? The reels of Birds of Fury are spinning, awaiting your ascent into this avian adventure!
Pros
Unique theme revolving around birds showcases creativity.
Bonus rounds and multipliers enhance the gaming experience.
Wild symbols can boost winning combinations, adding to the excitement.
Cons
Medium volatility might not cater to those seeking high-risk, high-reward gameplay.
While unique, the theme might not resonate with everyone.
Absence of a progressive jackpot might be a drawback for some.
Games similar to Birds of fury
FAQ's
Speculatively, the RTP of Birds of Fury RTG could be around 94.8%.
Birds of Fury RTG might have medium volatility.
The speculative biggest win possible in Birds of Fury RTG is 2,300x the stake.
Yes, based on this speculative profile, it might offer 10 free spins.
Ella Willson
Last Updated: Nov 01,2023