Cash money mermaids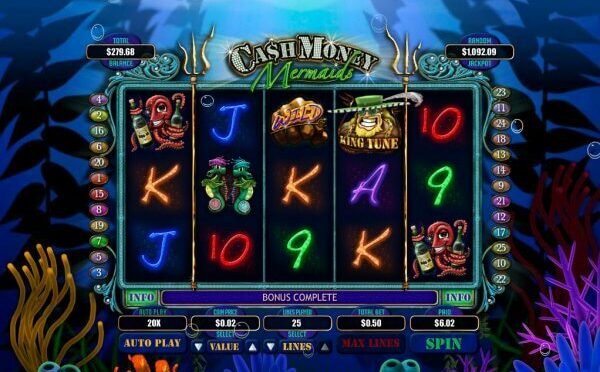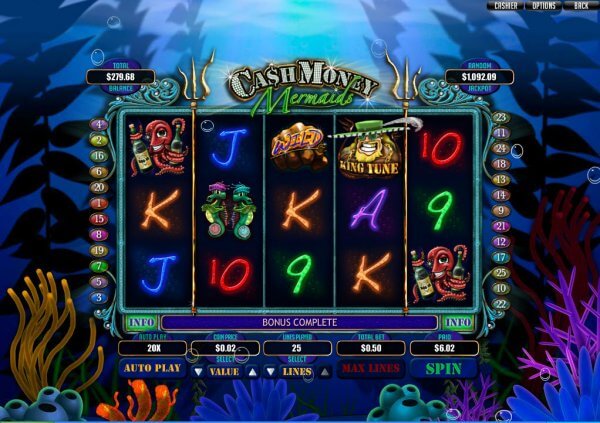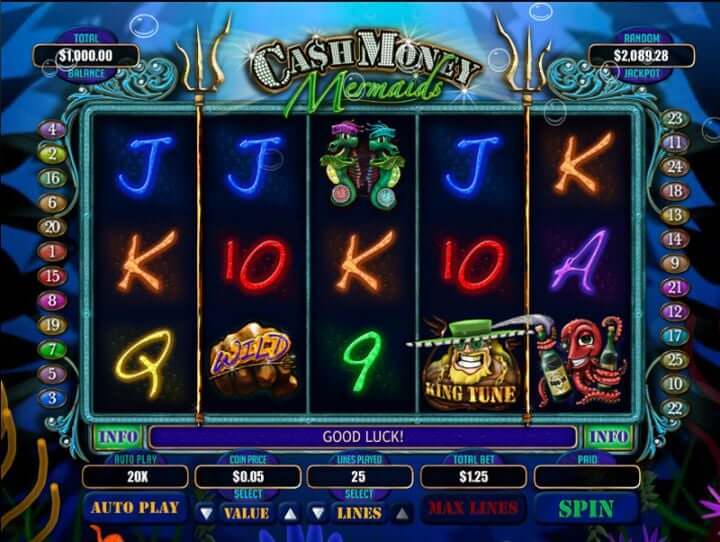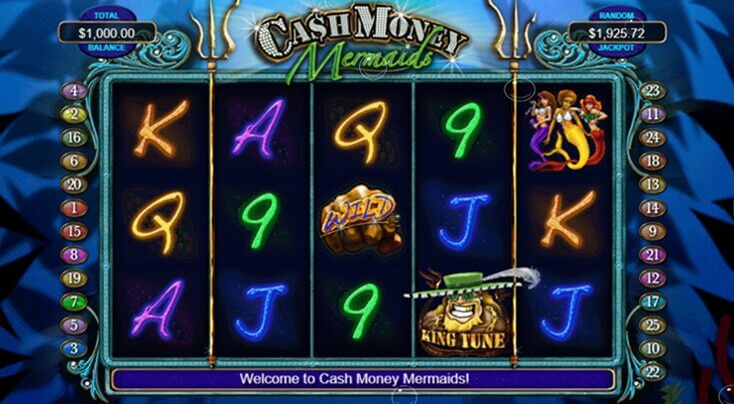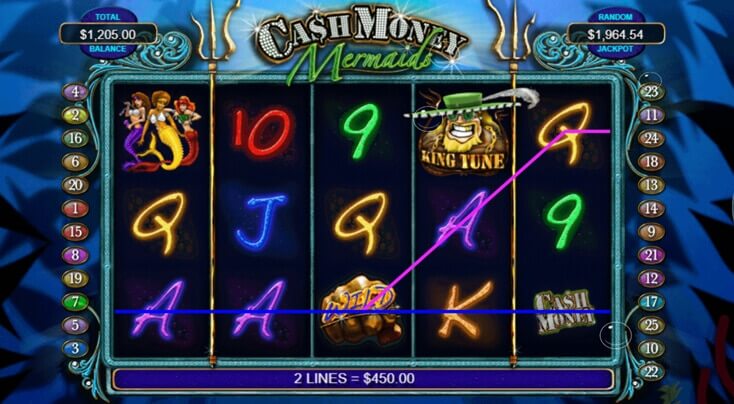 Extensive selection of games.
Has won multiple awards.
Unique loyalty program.
Multiple options for deposits and withdrawals.
Includes a sportsbook.
100+ industry-leading software providers.
Bonuses are not available for all countries.
No downloadable casino app.
Cash money mermaids Info & Features
Optimization for mobile devices:
Yes
Maximum Winnings:
225,000
Functions:
Bonus rounds, multiplier rewards
Topic:
Underwater, Mermaids, Treasure
Cash money mermaids online slot
Venture beneath the waves and into the enchanting realm of mermaids with RealTime Gaming (RTG) as they present the shimmering slot game, Cash Money Mermaids. Experience the allure of the deep blue sea and the treasures it holds within this enthralling slot.
The world of slots has always been captivated by the themes of cash and mermaids, and now, RTG has ingeniously fused these two concepts to create "Cash Money Mermaids." This underwater adventure is filled with stacks of cash and mermaids with a human-fish hybrid twist. Get ready to take a deep dive into Neptune's realm and experience a world of extravagance beneath the waves.
Although "Cash Money Mermaids" doesn't stray too far from the conventional slot game format, it's quite visually appealing. The electric neon symbols set against a sleek black backdrop evoke the ambiance of a nightclub, even though it's located several fathoms beneath the sea. There's no party like a mermaid party.
Making a Splash
"Cash Money Mermaids" features 25 paylines, and players can set their line bet between 0.01 and 5. This progressive jackpot slot, released in 2013, boasts a straightforward design. It features a backdrop adorned with a few air bubbles and reels separated by Neptune's trident. Here, Neptune, humorously dubbed "King Tune," plays the role of a stylish character donning a wide-brimmed hat. He's on a mission to show his array of mermaids a good time. It appears that he's not the only one in the mood for some fun; an octopus is spotted clutching two bottles of wine.
Although the playing card symbols are quite basic, their vivid neon hues enhance the game's appeal. The themed symbols include a pair of seahorses, a string of luminous algae, and a trio of mermaids adorned in their finest attire. In keeping with the theme of parties and extravagance, the wild symbol is represented by a gold knuckleduster and awards 2,000 coins for five in a line. The scatter symbol is the game's logo and activates free spins when three or more appear.
More Money, More Mermaids
While three scatters might only award you five free spins, it's a more generous feature than it initially appears. After each spin, King Tune has the ability to transform any symbol on the screen into a wild symbol. He can manipulate up to 15 symbols in this way, guaranteeing substantial winnings on every spin. Despite its title, the actual mermaids in "Cash Money Mermaids" play a relatively minor role, almost like an afterthought. Instead, it's up to King Tune and his gang of shady drinking buddies to steal the show and bring the excitement.
Similar Slot Games
Microgaming has released several slots that share similarities with "Cash Money Mermaids." This isn't surprising, considering Microgaming's extensive portfolio of games and the fact that "Cash Money Mermaids" follows the typical format of many slot games. You might want to explore Microgaming's "Roller Derby" or "Lost Princess Anastasia." Both games offer 25 paylines, an RTP of 95%, and a free spins feature with five spins.
Demo Game
Ideal for marine enthusiasts and seasoned slot divers alike, the demo version of Cash Money Mermaids provides:
A plunge into the ocean's depths without risking your treasures.
A chance to understand the game's mechanics, the importance of each aquatic symbol, and the lucrative bonuses that lie in sunken chests.
A complete gaming journey showcasing RTG's vibrant graphics, mesmerizing soundtracks, and interactive gameplay.
Bets and Prizes
Cash Money Mermaids ensures every seafarer finds their piece of underwater treasure:
Minimum Bet: Perfect for those taking a leisurely swim around the coral reefs.
Maximum Bet: For the daring divers ready to plunge into the ocean's deepest trenches in search of greater rewards.
Prizes: Align symbols like colorful fish, singing mermaids, and gleaming treasures to earn various payouts. Special combinations may reveal the ocean's most hidden and valuable secrets.
Play on Mobile Devices – Android, iPad & Tablets
In our connected age, RTG makes sure the magic of Cash Money Mermaids is accessible anywhere:
Fully Optimized: Dive into the underwater world with flawless gameplay on any mobile platform.
Supported Devices: Whether using an Android phone, iPad, or other tablets, Cash Money Mermaids' vibrant underwater world remains just a touch away.
Consistent Experience: Transition effortlessly from your desktop aquarium to your mobile ocean, with no loss of visual or interactive charm.
Graphics and Sounds
True to RTG's reputation, Cash Money Mermaids is a feast for the senses:
Graphics: Vivid reels populated by radiant sea creatures, shimmering treasures, and captivating mermaids that promise an underwater adventure like no other.
Sounds: The calming ebb and flow of the ocean, interspersed with the melodic calls of mermaids, enhances the game's immersive atmosphere.
Strategies and Tips
While the sea's mysteries are largely governed by chance, a sprinkle of strategy can guide your underwater quest:
Navigate the Paytable: Familiarize yourself with the game's symbols, focusing on those that can trigger enchanting bonus rounds.
Set a Dive Budget: Define your spending depth to ensure a sustainable and enjoyable undersea journey.
Engage with Bonus Features: Utilizing bonus rounds can amplify your rewards and offer a closer encounter with the ocean's mythical residents.
Slot Verdict
Cash Money Mermaids by RTG is a sublime blend of marine mystique and slot gaming excitement. Inviting players into a world teeming with colorful corals, mystical mermaids, and sunken treasures, the game guarantees both an immersive experience and a chance at bountiful rewards. Whether you're enchanted by the ocean's mysteries or just in search of a refreshing slot escape, Cash Money Mermaids is calling. Will you answer the siren's song? The reels of Cash Money Mermaids are in motion, awaiting your adventurous dive!
Pros
Vibrant underwater theme with enchanting mermaids.
Multiplier options offer potential for significant wins.
Bonus rounds related to underwater treasures add depth to gameplay.
Cons
Medium volatility might not be appealing to those seeking high volatility slots.
The underwater theme, while enchanting, might be common in slot games.
Lack of a progressive jackpot may deter some jackpot hunters.
Games similar to Cash money mermaids
FAQ's
Speculatively, the RTP of Cash Money Mermaids RTG could be around 95%.
Cash Money Mermaids RTG might have medium volatility.
The speculative biggest win possible in Cash Money Mermaids RTG is 2,250x the stake.
Yes, based on this speculative profile, it might offer 12 free spins.
Ella Willson
Last Updated: Nov 01,2023