Valley of the gods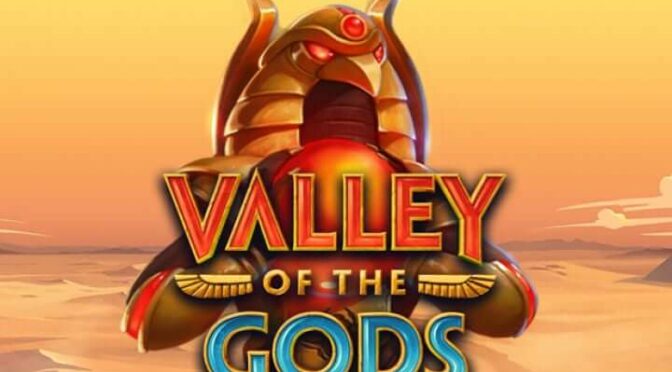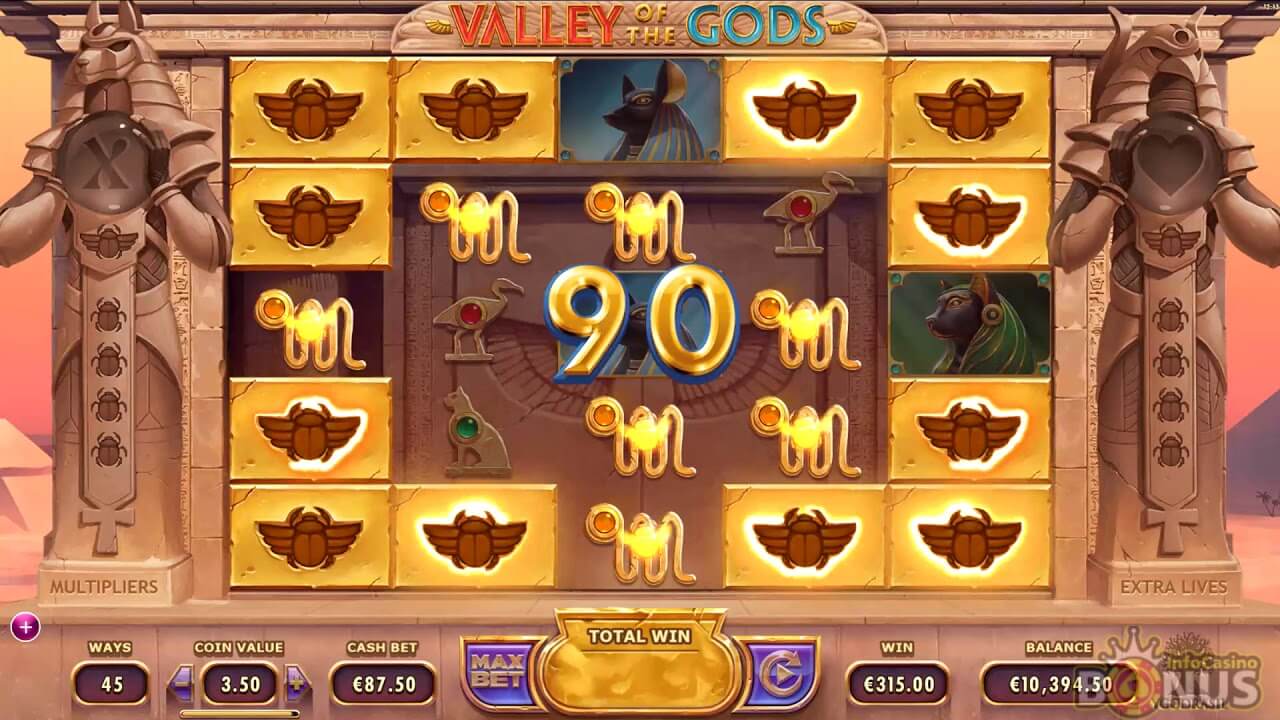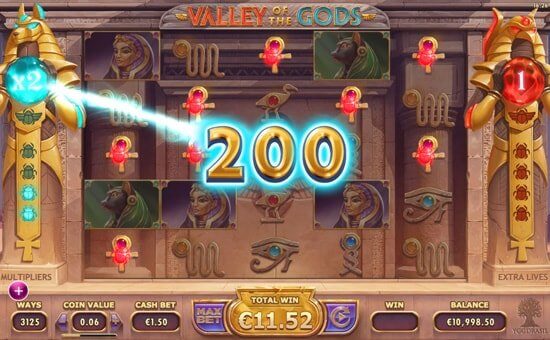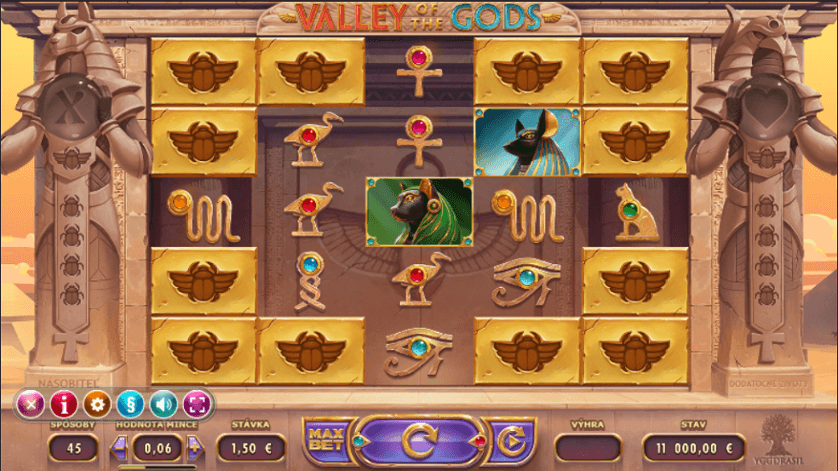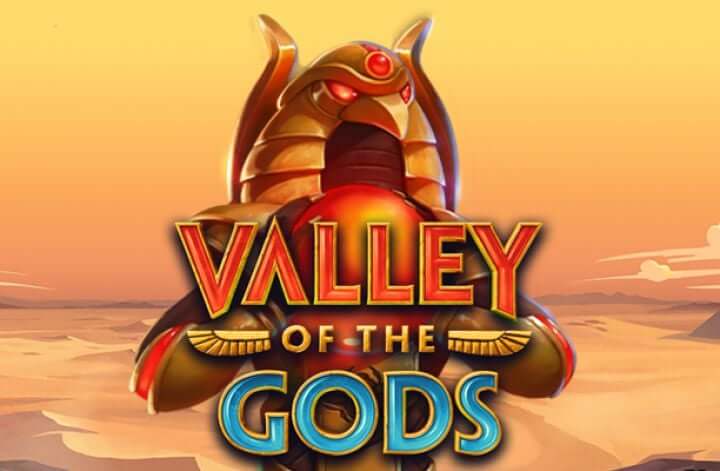 Extensive selection of games.
Has won multiple awards.
Unique loyalty program.
Multiple options for deposits and withdrawals.
Includes a sportsbook.
100+ industry-leading software providers.
Bonuses are not available for all countries.
No downloadable casino app.
Valley of the gods Info & Features
Optimization for mobile devices:
Yes
Maximum Winnings:
580,000
Number Of Free Spins:
3125
Functions:
Re-spins, Block Destroyer, Extra Lives, Multipliers
Topic:
Ancient Egypt, Mythology
Valley of the gods online slot
Embark on a mystical journey to the heart of Ancient Egypt with Yggdrasil Gaming's "Valley of the Gods" slot. This game takes players on an epic quest to seek the favor of the gods and uncover hidden riches.
We travel back to ancient Egypt with Valley Of The Gods. Ancient Egypt and Egyptian gods are a very popular topic among slot machine makers.
Is this another slot machine that is a dime a dozen? Absolutely not. Yggdrasil has created a fantastic cabinet with Anubis and Horus taking center stage.
You start in this slot with 45 ways to win. Do you have a winning combination? Then a respin is done where the playing field becomes larger. Ultimately this can add up to 3,125 ways to win.
The great thing about this casino game? Thanks to the multipliers and large number of paylines, you as a player can claim a profit of up to a staggering 580,000 euros!
Valley of the Gods theme and storyline
The Valley of the Gods slot machine clearly focuses on Ancient Egypt. It therefore fits in a long line of slots including Book Of Ra, Coins Of Egypt and Ancient Egypt. The design of the slot machine is very beautiful. The well-known Egyptian gods Anubis and Horus are beautifully designed. Visually, a lot of attention has clearly been paid to this slot machine and the player obviously benefits from this.
In particular, keep your eyes on the pillars on the left (Anubis) and right (Horus). If you fill this with scarabs for winning combinations, you will receive multipliers from Anubis and extra lives from Horus. The extra lives are in the form of respins. Very nicely done.
Valley of the Gods stakes, RTP and variance
As a player, when playing this Valley of the Gods slot machine, you must take into account that there is both a minimum and a maximum bet. The minimum bet is 0.10 euros per spin. The maximum bet is 100 euros per spin.
Yggdrasil has chosen to give this slot machine a medium variance. Furthermore, the return to player is 96.2 percent. The combination of minimum bet and return to player makes this a very accessible slot machine for us.
Valley of the Gods features
There are actually no bonus features at all with Valley of the Gods. That also turned out to be a fantastic choice.
The playing field that expands, the multipliers and the innovative respin function are fantastic. The respins feature of this Valley of the Gods slot machine is by far one of the best we have ever played. We would be happy to discuss this in more detail for you.
Valley of the Gods free spins
When developing this slot machine, Yggdrasil has chosen not to use a free spins bonus. Instead, she opted for a respins feature. You always start playing this slot machine with a playing field where the symbols are visible in a formation of 1-3-5-3-1.
The remaining spots that can be found on the reels are covered with boulders on which a scarab can be found. Can you score a winning combination? In that case, a few of these blocks will explode after which you will receive a respin. In principle, this continues until you no longer have a winning combination with a respin.
At the end of the game you will eventually be able to play with five symbols. In fact, this is where the potential of this slot machine really comes into play. From now on you play with 3,125 ways to win. With every winning spin, a scarab is assigned to each winning symbol. A distinction is made between blue and red scarabs.
The blue ones will fly to Anubis while the red ones will fly to Horus. Depending on the type of scarab you received, it is possible to increase the multiplier by +1 or to receive an extra life. The latter can be very important, because a single miss in the respins feature can cause the bonus game to end. You will of course want to avoid this at all costs!
Demo Game
Players can experience the allure of Egypt and its deities by playing the demo version of "Valley of the Gods." This version allows for a full exploration of the game's features without any real money at stake, providing a perfect practice ground.
Bets and Prizes
With a wide range of betting options, "Valley of the Gods" caters to both casual players and high rollers. The game boasts a competitive RTP (Return to Player) and a unique re-spin feature that can increase win multipliers, presenting an opportunity for heavenly prizes.
Play on Mobile Devices – Android, iPad & Tablets
The mobile compatibility of "Valley of the Gods" is flawless. The game adapts to smaller screens without sacrificing detail or functionality, ensuring Android, iPad, and tablet users enjoy a full-fledged gaming experience.
Graphics and Sounds
"Valley of the Gods" features spectacular graphics, with symbols and gods depicted in rich detail against the backdrop of an ancient temple. The ethereal soundtrack reinforces the theme, enveloping players in an atmosphere that is both mysterious and grandiose.
Strategies and Tips
Start with the demo game to familiarize yourself with the unique game mechanics.
Manage your bankroll wisely, and aim for longer play sessions to experience all features.
Keep an eye on the scarab collection as it could lead to more ways to win and increased multipliers.
Slot Verdict
"Valley of the Gods" is an engaging slot game that offers players a divine journey through ancient lands filled with magic and mystery. Yggdrasil Gaming's signature attention to detail is evident in both the visuals and gameplay mechanics. "Valley of the Gods" promises not just a slot experience but an adventure worthy of the gods themselves. Whether you are a fan of Egyptian lore or simply seeking a slot with innovative features, this game is bound to captivate and entertain.
More games from yggdrasil
Pros
Expanding game board with up to 3125 ways to win provides a unique and engaging gameplay experience.
Re-spins on every win and increasing multipliers can result in substantial payouts.
Beautifully designed with impressive graphics and an Ancient Egyptian theme.
Cons
Lack of traditional free spins and scatter symbols may not appeal to all players.
The high volatility and complexity of the game mechanics may deter some casual players.
Games similar to Valley of the gods
FAQ's
The RTP (Return to Player) for Valley of the Gods is 96.2%.
Valley of the Gods is a medium-high volatility slot.
The biggest win possible in Valley of the Gods is up to 580,000 coins.
While Valley of the Gods does not have a traditional free spins round, it features re-spins after each win and a bonus game with expanded ways to win and increasing multipliers.
Ella Willson
Last Updated: Nov 08,2023