Giant's gold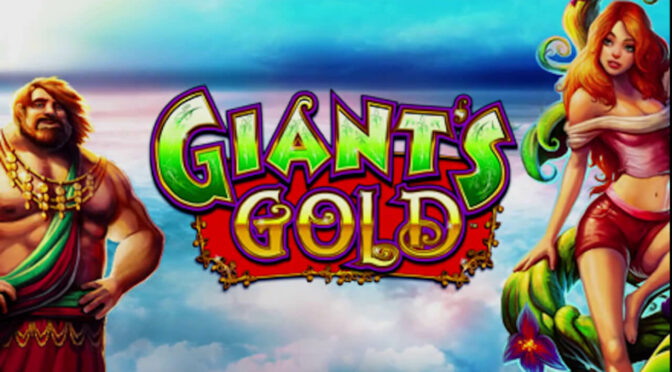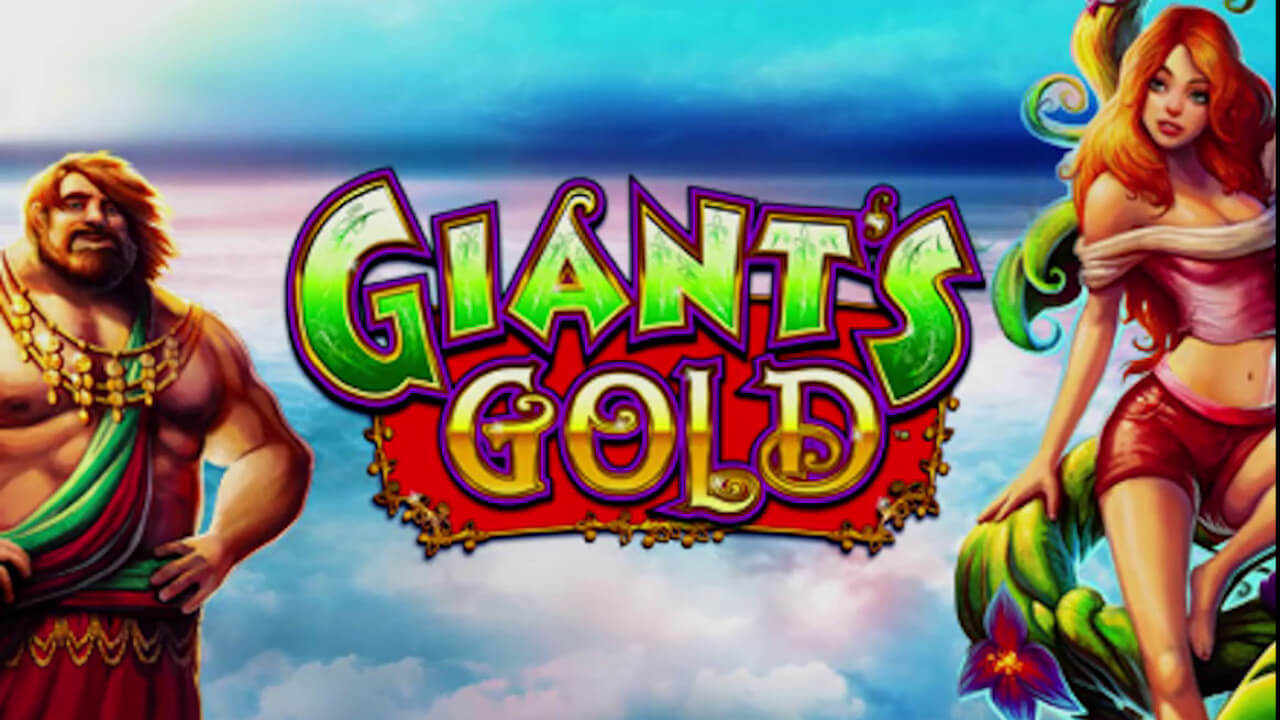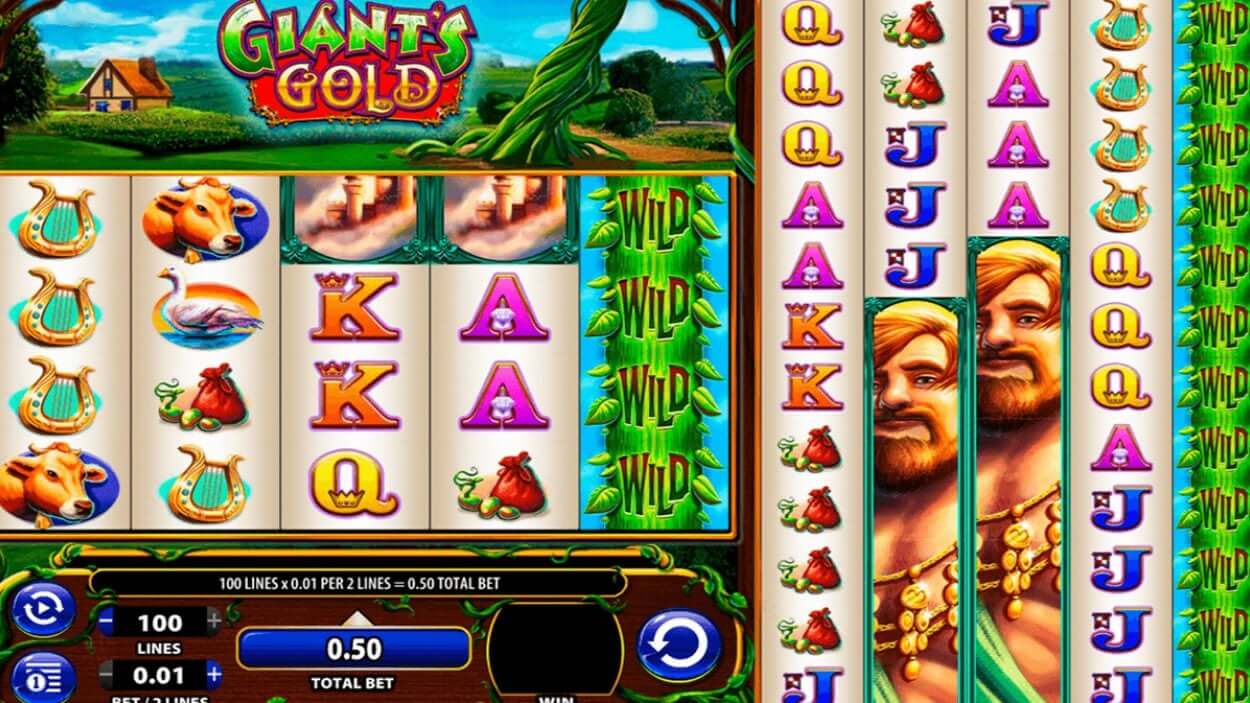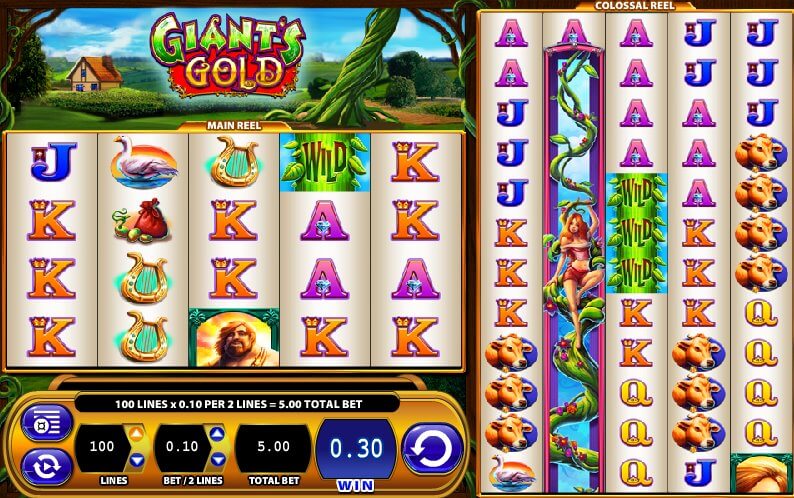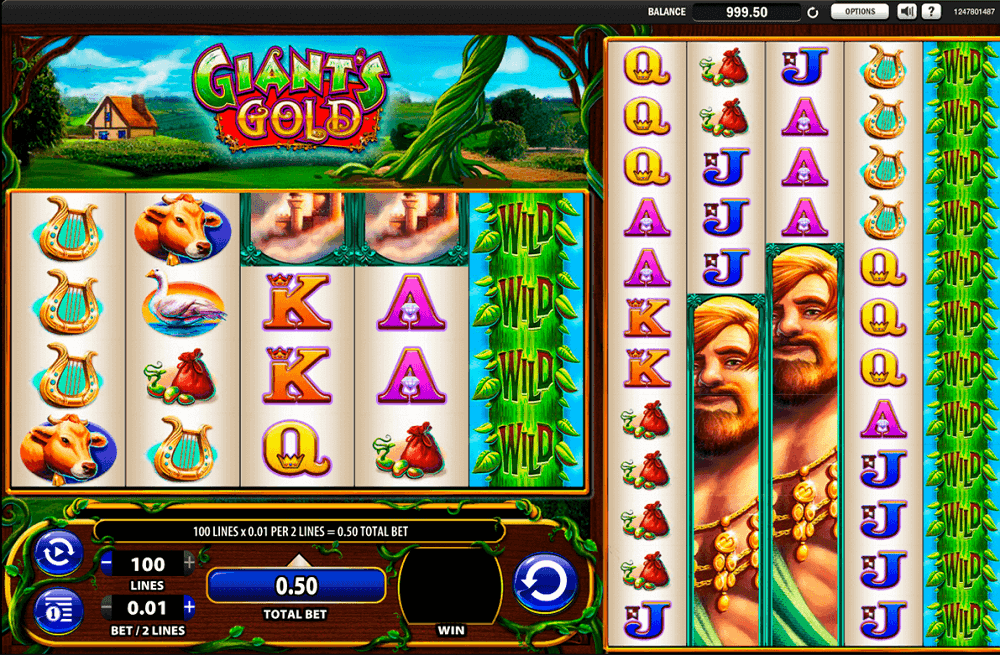 Extensive selection of games.
Has won multiple awards.
Unique loyalty program.
Multiple options for deposits and withdrawals.
Includes a sportsbook.
100+ industry-leading software providers.
Bonuses are not available for all countries.
No downloadable casino app.
Giant's gold Info & Features
Optimization for mobile devices:
Yes
Number Of Free Spins:
Yes
Functions:
Free Spins, Multipliers, Colossal Reels, Fairy Tale Theme
Topic:
Fairy Tale, Fantasy, Magic
Giant's gold online slot
Giant's Gold from WMS is a fairytale-themed slot that transports players to a land of giants and magic beans. With its enchanting visuals, whimsical symbols, and exciting bonus features, this game offers an adventure in a world where giants roam.
True to expectations, the Giant's Gold slot machine has a really interesting reel layout, including a main 5×4 reel set and a whopping 5×12 reel set. This game also contains 100 customizable paylines and 5 reels. Moreover, in the assortment of this game you will find stacked symbols, as well as farm sounds, which add realism to the overall feeling of the gameplay. Previous slots from WMS with sets of colossal reels, like the Kiss slot machine, received a lot of laudatory comments from players, so it is not surprising that the Giant's Gold slot is already attracting quite a lot of attention. Whether this slot machine will become as popular as its land-based counterpart is something that only time can tell.
Get your share of the giants' gold
You've almost certainly heard phrases like "I smell the blood of an Englishman" and "Fe-fi-fo-fum" in your life. Well, the Giant's Gold online slot machine is themed around the famous story of Jack and the Beanstalk. Obviously, children's stories are always attractive themes for slot machines. Thus, the developers of the Giant's Gold slot, WMS, took advantage of the fantasy and adventure story to create an equally exciting slot machine. In Giant's Gold, Jack has been replaced by a young girl who wants to climb the clouds thanks to a beanstalk. The giant beanstalk and the golden egg are the special symbols of the Giant's Gold slot machine. Other symbols you will see on the reels include cows, ducks, harps, giants and playing card images.
Features of Giant's Gold slot
The giant beanstalk is the game's wild symbol, which can substitute for all other symbols on the reels except the golden egg symbol, which in turn is a scatter symbol. The golden egg symbol can only appear on reels 1, 3 and 5 of the main reel set and on reels 1, 3 and 5 of the colossal reel set. If you are lucky enough to land a reel full of stacked wilds on the main reel set, then the exact same number of stacked wilds will be played on the colossal reel set.
Win up to 100 free spins
The Giant's Gold slot machine features exciting free spins bonus rounds that are triggered by landing golden egg symbols on 3 or more positions on both sets of reels. You can earn up to 100 free spins, with all wins on the colossal reels being doubled.
Great game for players of all limits
This is truly a great game for players of all limits for one simple reason – you can customize your bet sizes ranging from 0.10 coins all the way up to 100 coins for all 100 paylines. Winning combinations appear quite often here too, but you can earn really big wins during the free spins, especially if you are lucky and get multipliers on all payouts.
The theme of this game is very similar to other slot machines from WMS, however, the introduction of a colossal set of reels into the slot may especially appeal to all fans of slot machines from WMS. This is a slot machine with tons of action and more opportunities to win money than you could ever imagine, so go gold or go home!
Demo Game
Before you embark on your fairytale journey, you can explore the Giant's Gold demo game. This free-play version allows you to experience the game's features and mechanics without risking real money. It's an excellent way to get acquainted with the slot's unique elements, including the colossal reels.
Bets and Prizes
Giant's Gold provides a range of bets and prizes to cater to different players:
Minimum Bets: Designed for players who prefer smaller wagers or extended gameplay sessions.
Maximum Bets: High rollers can increase their stakes for a chance at more substantial wins.
Prizes: The game offers attractive prizes, especially through the colossal reels and the potential for free spins with expanding wilds. With a competitive RTP (Return to Player) and medium volatility, it delivers an exciting gaming experience.
Play on Mobile Devices – Android, iPad & Tablets
The game has been optimized for mobile devices, ensuring seamless gameplay on Android smartphones, iPads, and tablets. The mobile version retains the high-quality graphics and enchanting gameplay, allowing you to explore the land of giants from anywhere.
Graphics and Sounds
The graphics and sounds in Giant's Gold create a whimsical and fairytale atmosphere:
Graphics: The slot features charming artwork with symbols representing fairytale characters, magic beans, and, of course, giants. The background immerses players in a fantastical world, with towering beanstalks and castles adding to the overall ambiance.
Sounds: The soundtrack includes magical and whimsical music, complementing the theme with an enchanting and otherworldly ambiance that captures the spirit of a fairy tale.
Strategies and Tips
While slot games depend on luck, here are some strategies and tips to make the most of your experience with Giant's Gold:
Bankroll Management: Always set a budget for your gaming session to ensure responsible play.
Colossal Reels: Familiarize yourself with how the colossal reels work, as they can lead to multiple winning combinations and expanding wilds.
Free Spins: Keep an eye out for the feature symbols, as they can trigger the free spins feature, offering the potential for big wins with colossal wilds.
It's important to remember that slot outcomes are random, and there is no guaranteed strategy for winning.
Slot Verdict
Giant's Gold is a whimsical and visually captivating slot that invites players to enter a world of giants and magic. With its engaging features, mobile compatibility, and the allure of colossal reels, it offers an exciting gaming experience for those who appreciate the charm of fairy tales and slot aficionados alike. Whether you're a fan of classic stories or simply enjoy slots with a fantastical atmosphere, Giant's Gold promises a magical journey filled with enchantment and rewards.
Pros
Fairy tale-themed slot with a unique Colossal Reels feature and magical visuals.
Medium volatility provides a balanced gaming experience.
Free Spins feature with Multipliers and the potential to fill the Colossal Reels for exciting wins.
Up to 1,000 times the stake can be won for substantial potential payouts.
Cons
RTP may vary slightly depending on the casino or platform.
While medium volatility suits many players, some may prefer higher-risk gameplay.
No fast spin feature may not cater to players desiring faster gameplay.
Games similar to Giant's gold
FAQ's
The RTP for Giant's Gold can vary slightly but typically falls within the range of 95.98% to 96.21%, depending on the specific casino or platform.
Giant's Gold is a medium volatility slot, offering a gaming experience with a balance of regular wins and the potential for moderate-sized payouts.
While there's no fixed maximum win, players have the opportunity to win up to 1,000 times their stake, aiming for substantial potential payouts in this fairy tale and fantasy-themed slot.
Yes, Giant's Gold features a Free Spins bonus round triggered by Scatter symbols. This bonus round includes Multipliers and the unique Colossal Reels feature, allowing players to immerse themselves in a magical world while collecting rewarding wins.
Ella Willson
Last Updated: Nov 13,2023