Cluedo mighty ways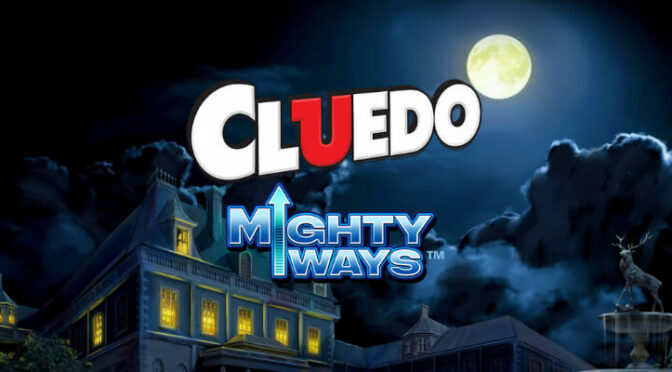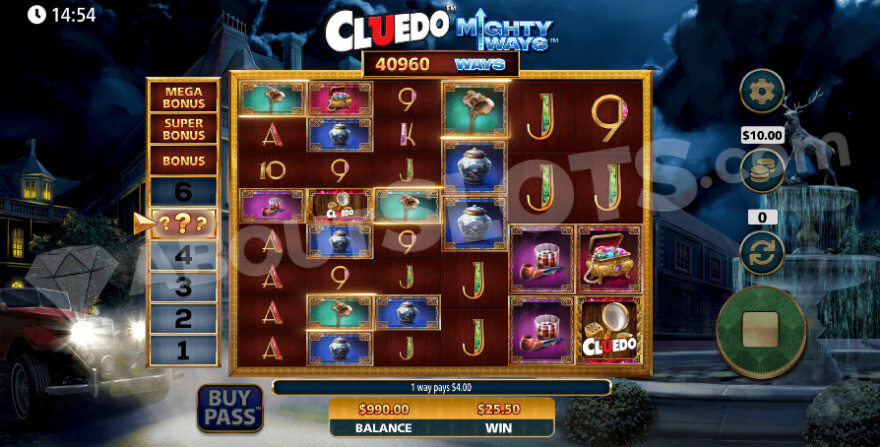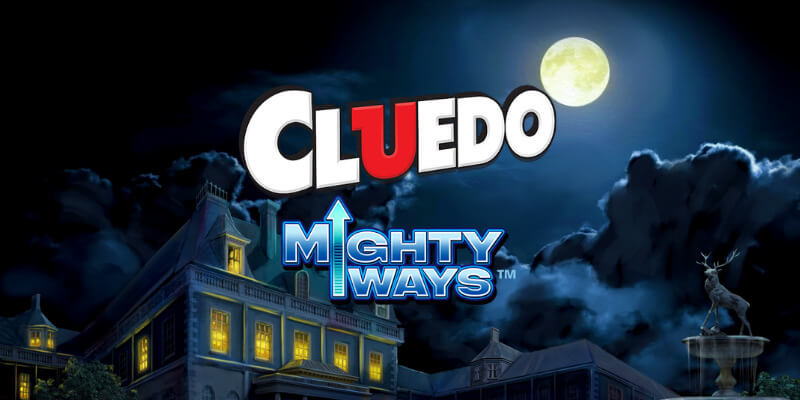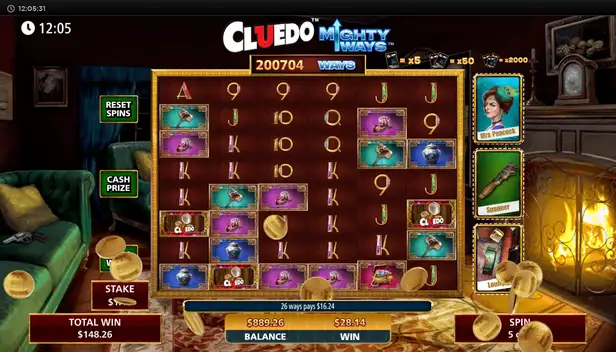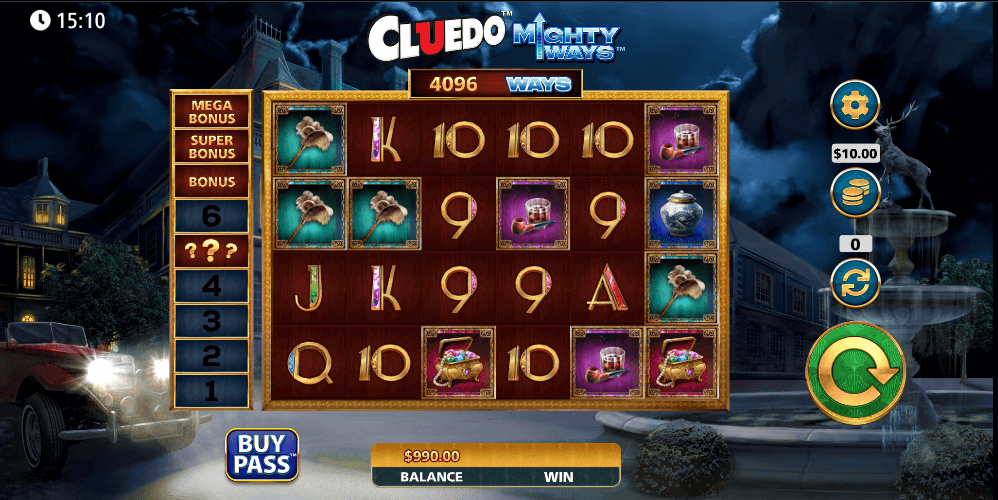 Extensive selection of games.
Has won multiple awards.
Unique loyalty program.
Multiple options for deposits and withdrawals.
Includes a sportsbook.
100+ industry-leading software providers.
Bonuses are not available for all countries.
No downloadable casino app.
Cluedo mighty ways Info & Features
Optimization for mobile devices:
Yes
Number Of Free Spins:
Yes
Functions:
Cascading Reels, Mystery Symbols, Character Bonuses
Topic:
Mystery, Detective, Board Game
Cluedo mighty ways online slot
Delve into the intrigue of a classic whodunit with Cluedo Mighty Ways, a slot experience that expands the mystery across 6 reels with the potential for up to 262,144 ways to win. Drawing inspiration from the beloved board game, this slot is perfect for those with a sleuthing spirit akin to the legendary detective Hercule Poirot, inviting you to crack the case within the grand halls of Cluedo Mansion.
How to Play Cluedo Mighty Ways Slot
Ready your wits, select your token, and prepare to unravel a dastardly deed.
Adjust your wager by clicking the Coin Stack, which reveals a +/- to set your coin size.
Autoplay allows you to preset a series of automatic spins along with a loss limit.
The Spin button activates the reels with your chosen bet.
Buy Pass offers immediate access to the bonus feature, bypassing standard play.
Slot Mechanics
The Mighty Ways feature ensures that winning combinations lead to cascading symbols, with new ones tumbling into place and each win contributing to an increased reel height, growing one symbol per cascade. Each reel can extend up to a maximum of 8 symbols in height.
Wild Symbol
The Wild symbol can land on all reels except the first. It has the ability to substitute for any other symbol, save for the special Cluedo cards and Magnifying Glass icons, and can represent multiple symbols when needed.
Trail 5 Modifiers
A Trail meter sits to the left of the reels, with 9 segments filling up with each cascade. Hitting the fifth segment activates a random modifier, with higher segments unlocking the Bonus, Super Bonus, and Mega Bonus rounds. Note that the Trail resets at the start of each new paid spin and is a feature exclusive to the base game.
Modifier highlights include:
Secret Passage: Gain direct entry into one of the three Bonus rounds.
Mystery Symbols: Randomly transform up to 8 symbols into a new symbol type.
Multiplier: A spin of the wheel can grant a win multiplier ranging from x2 to x10 following cascades.
Random Wilds: Add 2 to 5 Wilds in random grid positions.
Wild Reels: Turn entire reels Wild, applicable only on reels 2 to 5.
Symbol Removal: Replace low-paying symbols with high-value ones.
Board Reset: Wipe the reel array clean for a new spin with the current number of Mighty Ways.
Free Spins
Securing at least 7 consecutive cascades and reaching the seventh Trail segment triggers Free Spins, with more segments yielding additional spins. Seven cascades grant 5 spins, eight cascades offer 6 spins, and nine cascades present 7 spins.
Card Picker and Free Spins Feature
Triggering the Bonus round transports you to a new screen to select 3 Cluedo cards, with potential rewards such as extra Free Spins, win multipliers, cash prizes up to x100 the bet, removal of lower-value symbols, expanding Wilds, an increased starting count of ways to win, or resetting the Free Spins tally.
A timepiece symbol added to reel 6 can reset your Free Spins count each time it lands during the Reset Spins modifier. Additionally, revealing 1 to 3 Cluedo Cards during spins could award a fixed prize up to x2000 your bet if they match your chosen cards, or provide an extra free spin for each non-matching card.
Cluedo Mighty Ways is a slot game that blends classic detective work with modern slot features, inviting players to solve the mystery while spinning for wins.
Demo Game
Cluedo Mighty Ways is Yggdrasil's innovative take on the classic board game, transforming the mystery and excitement of Cluedo into a slot format. This game provides players with a chance to experience the slot in a demo mode, allowing them to delve into the enigmatic mansion and its reels without risking real money. The demo is an ideal way to familiarize oneself with the unique 'Mighty Ways' feature, understand the flow of the game, and uncover the secrets of winning combinations without any financial commitment.
Bets and Prizes
When it comes to placing bets, Cluedo Mighty Ways caters to a broad audience. Whether you're conservative with your wagers or a high-roller looking to bet big, the game offers a flexible betting range to suit your style.
As for the prizes, they are as intriguing as the game theme itself. Players can look forward to:
Expanding Reels: Through the 'Mighty Ways' feature, which can dramatically increase the number of paylines.
Bonus Rounds: Modeled after the classic detective game, offering chances to solve mysteries for rewards.
Multipliers: Boost your winnings substantially when they come into play.
The fairness of the game is upheld by a certified Random Number Generator (RNG), ensuring that each spin is completely random and unbiased.
Play on Mobile Devices – Android, iPad & Tablets
Yggdrasil's Cluedo Mighty Ways has been fully optimized for mobile devices, enabling players to engage in the mystery-solving fun on their Android, iPad, or tablet. The game's mobile version retains all the features and excitement of the desktop game, all while adapting to the touch interface and screen sizes of modern mobile devices without losing any of its immersive qualities.
Graphics and Sounds
The game's graphics are a faithful homage to the beloved board game, with each symbol and character brought to life in rich detail. The infamous Cluedo mansion serves as an atmospheric backdrop for the reels, while the potential suspects and weapons are rendered as symbols, each adding to the narrative of the game.
Accompanying the visuals, the sounds of Cluedo Mighty Ways are just as captivating. Eerie melodies and the suspenseful soundscape set the tone for a thrilling gaming experience, enhancing the mysterious vibe of the game.
Strategies and Tips
Here are some strategies and tips for playing Cluedo Mighty Ways:
Smart Bankroll Management: Always play within your means and set limits.
Study the Paytable: Familiarize yourself with the symbols, especially the ones that trigger the game's special features.
Take Advantage of the Demo: The demo game is a great way to understand how the 'Mighty Ways' feature can impact your potential wins.
Focus on Bonus Features: These features, inspired by the rooms and characters of Cluedo, can lead to more significant rewards.
Slot Verdict
Cluedo Mighty Ways stands out as a sophisticated slot adaptation of a classic board game. Yggdrasil's commitment to creating an engaging and high-quality gaming experience is evident in every aspect of the game—from the intuitive 'Mighty Ways' feature to the impressive graphics and sound design. Whether you're a fan of the original board game or new to the world of Cluedo, this slot offers a compelling blend of nostalgia and modern slot mechanics. It's a game that beckons with the promise of mystery, entertainment, and the chance for substantial payouts, suitable for any player who enjoys a good detective story with their spins.
Pros
Engaging theme based on the classic board game Cluedo, with well-designed symbols and backgrounds.
The possibility of up to 117,649 Mighty Ways to win offers massive potential for players.
Mystery Reveal Feature and cascading reels add extra layers of excitement to gameplay.
Cons
Medium-high variance may result in less frequent wins, which might not be ideal for all players.
No progressive jackpot, which might be a downside for those looking for bigger prize pools.
The maximum bet limit might not cater to players who prefer high stakes.
Games similar to Cluedo mighty ways
FAQ's
The Mystery Reveal Feature in Cluedo Mighty Ways is activated when the mystery symbol lands on the reels. It then transforms into a random regular symbol, potentially helping to create or improve winning combinations.
The Mighty Ways mechanic works by changing the number of symbols that can appear on each reel with each spin, varying from 2 to 7. This alters the number of ways to win on each spin, with the potential to reach up to 117,649 ways.
This depends on the version of the game provided by Yggdrasil. Some slots offer a Bonus Buy feature that allows players to purchase direct entry into a bonus round like free spins, but it's not a standard feature across all jurisdictions or versions of the game due to regulatory restrictions.
Ella Willson
Last Updated: Nov 08,2023