Epic monopoly 2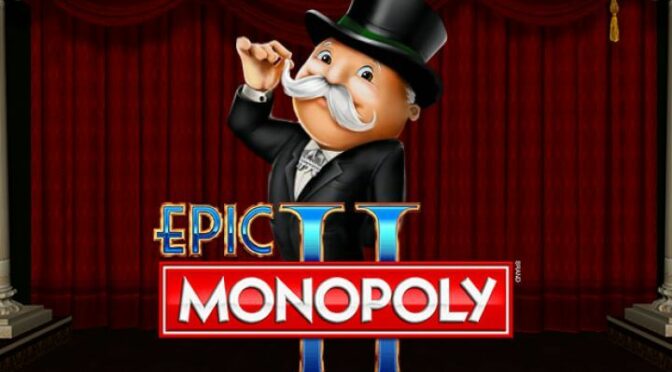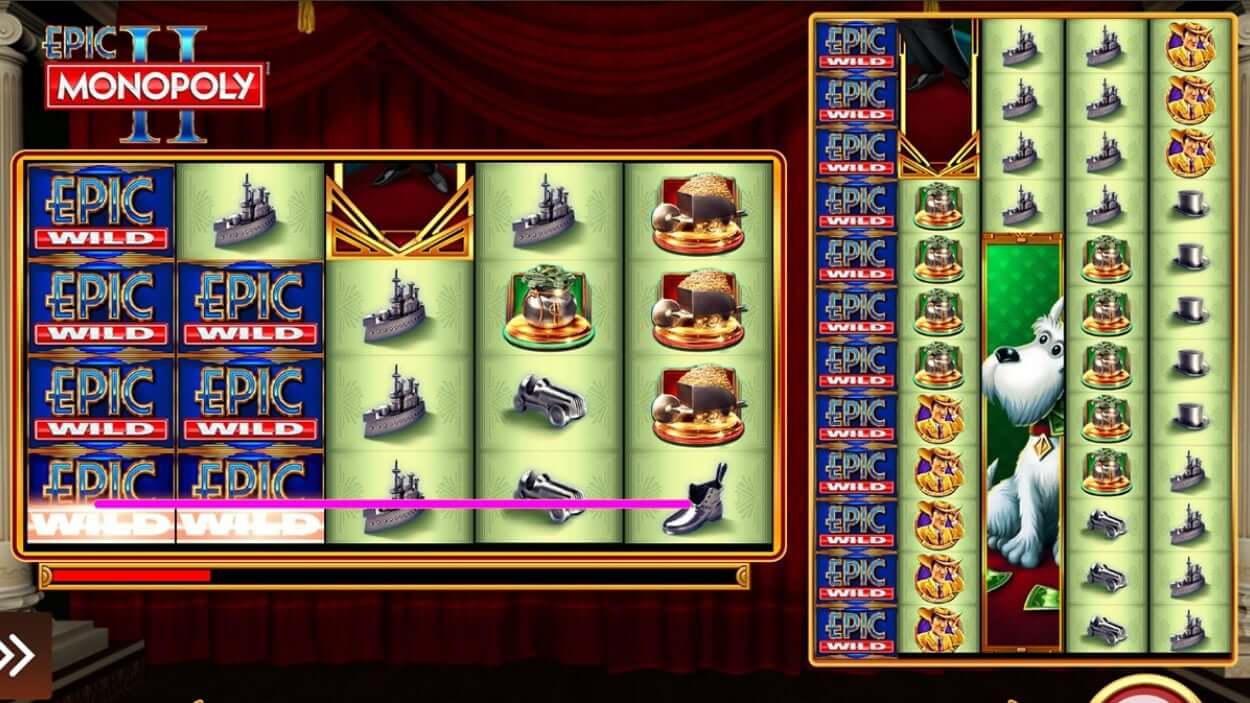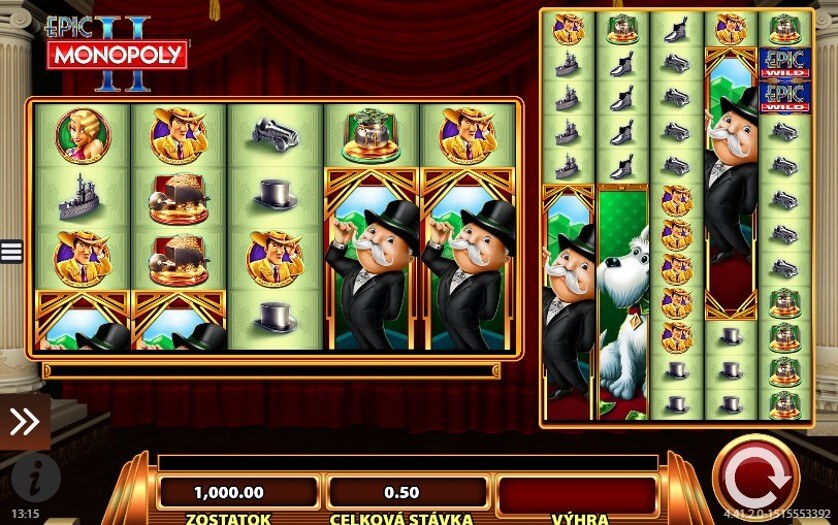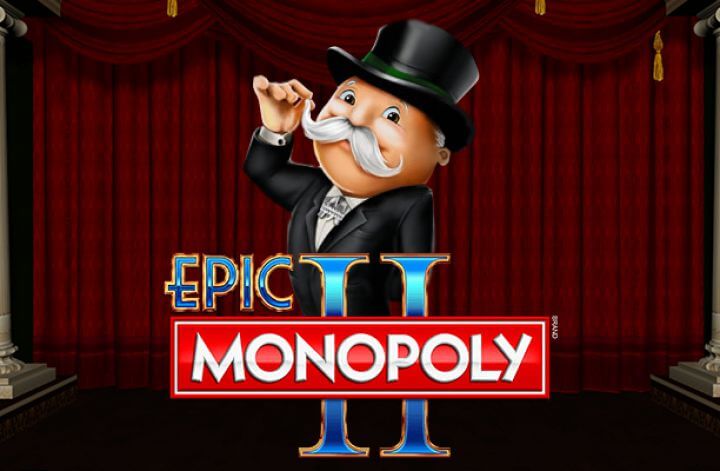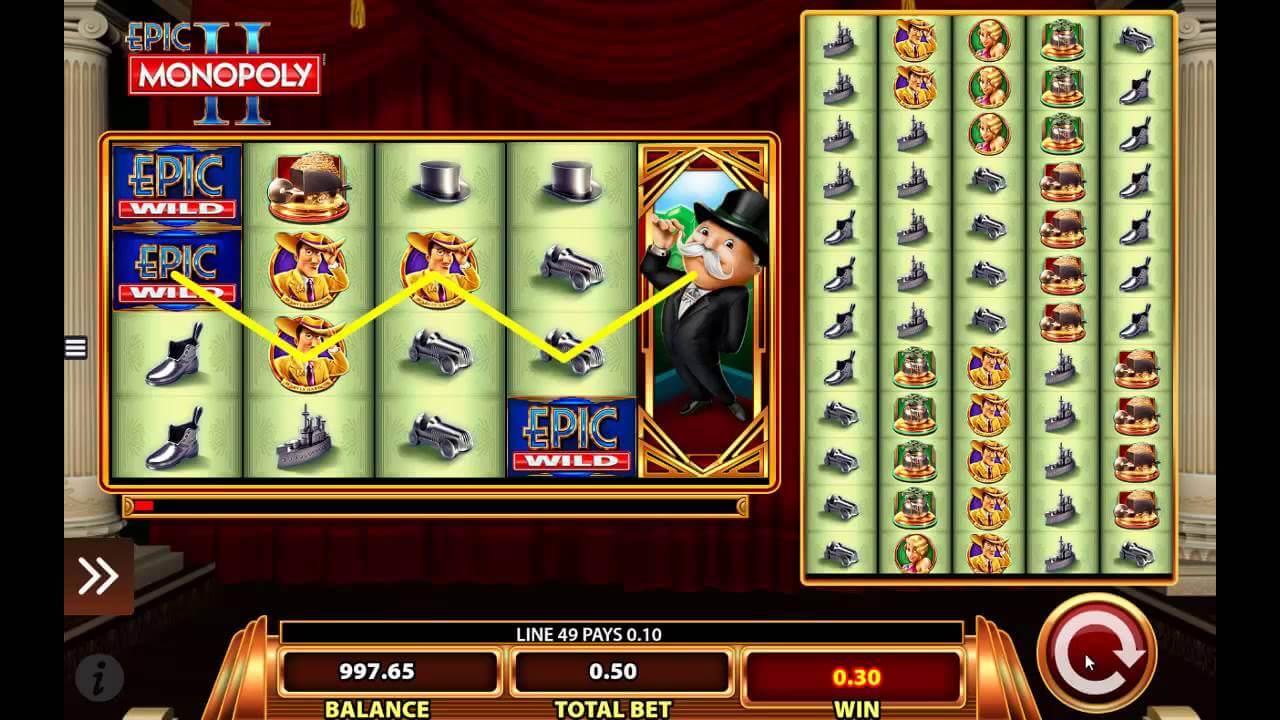 Extensive selection of games.
Has won multiple awards.
Unique loyalty program.
Multiple options for deposits and withdrawals.
Includes a sportsbook.
100+ industry-leading software providers.
Bonuses are not available for all countries.
No downloadable casino app.
Epic monopoly 2 Info & Features
Optimization for mobile devices:
Yes
Maximum Winnings:
250,000x
Number Of Free Spins:
Yes
Functions:
Free Spins, Multipliers, Colossal Reel Set, Epic Wheel Bonus
Topic:
Monopoly, Board Game, Retro
Epic monopoly 2 online slot
Epic Monopoly II by WMS brings the grandeur of one of the most beloved board games to the realm of online slots. This sequel is bigger and bolder, offering an expanded reel set and the potential for substantial payouts. It's a property-trading adventure that promises to be as epic as the name suggests.
About Epic Monopoly II
Epic Monopoly II is a very popular video slot from WMS that is part of the very successful series of Monopoly slots.
WMS naturally sets the bar high by calling this slot Epic Monopoly II. Is it really that epic? Or is it a cheap attempt to make something out of a lame release? We will find it all out for you. Is Epic Monopoly II really that good, or is it a real dime a dozen slot?
WMS are the True Video Slot Pioneers
Fortunately, WMS (and certainly the "old" WMS, before they were taken over by Scientific Games) is one of the best slot providers in the world.
WMS is even responsible for inventing the video slot that we all love so much. And WMS was also the very first party to design a bonus game. So every time you enjoy playing another bonus game, free spins bonus or Pick and Click bonus, just think of WMS.
Epic Monopoly II is a beauty of a slot, with free spins, Colossal Reels (another WMS invention), transferring Wilds and many surprising bonus features. Is it the best video slot ever? Certainly not. But it is certainly worth a good 4 stars.
How does the Epic Monopoly II Slot work?
Epic Monopoly II has 100 paylines and works according to the Colossal Reels principle.
On the left side of the screen you have a basic playing field of 5 reels with 3 symbols and 20 paylines. On the right is another playing field, this time with 5 colossal reels with 12 symbols. These are good for 80 paylines. If we add the two fields together, we get 100 winning lines.
The minimum bet is only €0.005 per payline, which means you end up with a minimum bet of €0.50 per spin. Of course you can also bet more: up to €50 per spin.
What is the Payout Percentage and Variance?
The payout percentage of Epic Monopoly II is 96.01%. That is considerably more than the land-based version of this slot. It has a theoretical RTP that does not exceed 92%. In the long term this means a very significant difference.
Symbols and Payouts
The Wild symbol plays a special role in this game. In any case, the symbol is Stacked (just like all other symbols), but there is still something fun going on. If you spin one or more Stacked Wilds on the first set of reels (the small ones), these Stacked Wilds will be copied to the Colossal Reels. And that can yield nice payouts.
Due to the many winning lines, the Stacked symbols and the Transferring Wilds, the payouts for 5 of the same are on the low side.
The EPIC Wild symbol provides the biggest wins: spin 5 on an active payline and you win 500 times the bet per line. With the minimum bet of €0.005, 5 Wilds will earn you €2.50. A full screen of Wilds is therefore worth €250. If you play the maximum bet, we are talking about a prize of €25,000.
The Mister Monopoly man pays out 500 times the bet per line and his dog is good for 400 times the bet per line.
The Epic Monopoly Bonus Game: Free Spins and Extra Features
The bonus feature is activated by the Monopoly Board symbol. This symbol is Scattered and appears on reels 1, 3 and 5 of both the small reels and the Colossal Reels.
As soon as you spin 3 symbols you win a spin on the Monopoly bonus wheel. Do you spin 4 or more Scatters? Then you also win an extra payout, which can be up to 100 times the total bet.
But the most important of the bonus features is of course the spin on the Epic Monopoly Wheel.
You can win the following great prizes:
A cash prize of 500 times the bet per 2 lines
7, 10, or 20 free spins
Roll the dice 2, 5, or 10 times in the Around the Board Bonus
The Epic Chance Bonus
Another spin with all prizes x2
The Free Spins Bonus
Two additional features apply during the free spins. In any case, a multiplier of x2 applies to all wins. In addition, every Epic Wild expands on the small reels and is transferred to the Colossal Reels! Retriggers are possible.
Demo Game
Before players pass 'Go' and collect their potential winnings, they have the opportunity to try the Epic Monopoly II demo game. This free-play version allows players to experience the fun and complexity of the slot without risking any real money, making it an excellent way for newcomers to become acquainted with its features.
Bets and Prizes
In Epic Monopoly II, betting options cater to a range of players:
Minimum Bets: Perfect for those who prefer to extend their playtime and enjoy the game at a leisurely pace.
Maximum Bets: Designed for players looking to invest more in the hope of landing the game's top prizes.
Prizes: The slot features the Epic Wheel Bonus, which can lead to cash prizes, free spins, or a chance at the Epic Chance Bonus. With a reasonable RTP and medium volatility, the game aims to strike a balance between frequent smaller wins and the occasional big score.
Play on Mobile Devices – Android, iPad & Tablets
Epic Monopoly II has been optimized for play on Android, iPad, and tablets, ensuring that players can engage in this epic slot journey on their preferred mobile device without any loss of quality in the graphics or gameplay.
Graphics and Sounds
The graphics and sounds of Epic Monopoly II stay true to the essence of the original board game:
Graphics: The symbols include classic Monopoly pieces like the car, dog, and hat, alongside Mr. Monopoly himself. The reels are set against a backdrop of the iconic game board.
Sounds: The audio keeps in line with the Monopoly theme, offering a classy and engaging soundtrack that complements the upscale gaming experience.
Strategies and Tips
As with any slot game, luck plays a significant role in Epic Monopoly II, but a few strategies and tips might enhance your gameplay:
Familiarize Yourself With Bonus Features: Knowing how the Epic Wheel Bonus and other features work can help you understand the game's flow.
Manage Your Bankroll: Set a budget for your session and stick to it to avoid any unwelcome losses.
Smart Betting: Consider the game's volatility and bet within your limits, aiming for a balance between playtime and the potential for big wins.
These strategies can help provide a more controlled and enjoyable gaming experience but cannot alter the random nature of the game's outcome.
Slot Verdict
Epic Monopoly II is a worthy sequel in the WMS Monopoly slot series, capturing the charm of the board game while introducing unique slot mechanics. Its dual-reel structure, assortment of bonuses, and brand recognition make it a standout title. Whether you're a fan of Monopoly or just seeking a slot game with depth and variety, Epic Monopoly II promises an engaging and potentially lucrative experience, suitable for players of all levels.
Pros
Based on the classic board game "Monopoly" with nostalgic elements.
Unique dual-reel setup with a standard 5x4 reel set and a colossal 5x12 reel set.
Medium volatility provides a balanced gaming experience.
Free Spins feature with Multipliers and the Epic Wheel Bonus for exciting wins.
Cons
RTP may vary slightly depending on the casino or platform.
Lack of a fixed maximum win might disappoint those seeking specific big wins.
No fast spin feature may not cater to players desiring faster gameplay.
Games similar to Epic monopoly 2
FAQ's
The RTP for Epic Monopoly II can vary slightly but typically falls within the range of 94.32% to 96.01%, depending on the specific casino or platform.
Epic Monopoly II is a medium volatility slot, offering a balanced mix of regular wins and the potential for larger payouts.
While there's no fixed maximum win, players have the opportunity to win up to 250,000 times their stake, making for significant potential payouts in this Monopoly-themed slot.
Yes, Epic Monopoly II features a Free Spins bonus round triggered by Scatter symbols. This bonus round includes Multipliers and the exciting Epic Wheel Bonus, offering players the chance to accumulate rewards as they navigate the Monopoly-themed gameplay.
Ella Willson
Last Updated: Nov 12,2023